Allchem Industries - Winter Algaecide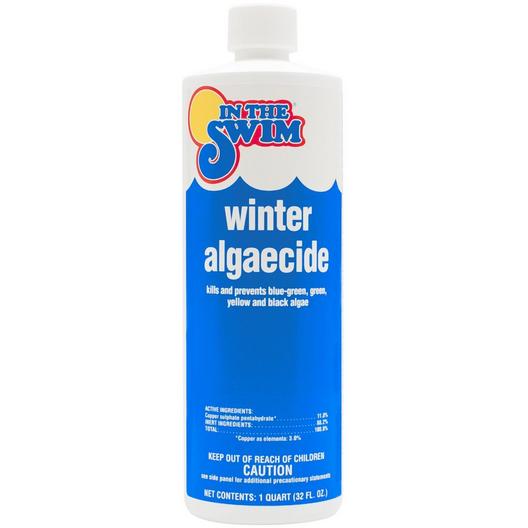 Helps prevent algae growth all winter long! More Details
Subscription Available
Standard Shipping
- Ship To Home.
---
Description
Helps prevent algae growth all winter long!
Winter Pool Algaecide is highly effective at preventing green, black and mustard algae.
Potent formula provides outstanding results.
Provides dependable control of algae growth throughout the winter season.
Our strongest copper-based pool algaecide stays strong all winter.
Best pool algaecide for winter use!
Available in one quart bottles; value-priced.
Unique winterizing algaecide is specifically formulated to fight cold weather algae!
A single treatment can prevent algae growth for up to 5 months in a covered pool.
Winter Algaecide does not interfere or disrupt other winter pool chemicals.
Compatible with all winter chemical kits and other winter pool chemicals.
1 quart treats up to 20,000 gallons.
---
Details
This fall, banish algae from your swimming pool with Winter Pool Algaecide. Winter Algaecide is a highly effective formula which stops growth of black, green and mustard algae at a cellular level. Stays active for up to 5 months in a covered pool. For pools over 20,000 gallons or pools with mesh safety covers, 2 quarts is recommended for best results.

Winter Algaecide can be used successfully with many other types of winter pool chemicals. In fact, Winter Algaecide even allows other swimming pool chemicals to work more effectively over a wider range of pH levels. Remarkably effective and reliable, this winter pool algaecide provides pool owners with an excellent weapon against winter algae growth.

been selling this special formula of Winter Algaecide since 1984. It works so well, and is so popular with our customers, that they come back again and again - even when they tried switching to an off-brand.

Our best pool algaecide for winter will not disappoint. You can count on our quality formulation to keep your pool water fresh all through the fall and winter, so that your spring pool opening is less work. Many of our customers who dont use a winter chemical kit use winter algaecide along with a floating chlorinator to maintain their water quality through the long winter.