Supreme Concrete Vacuum Head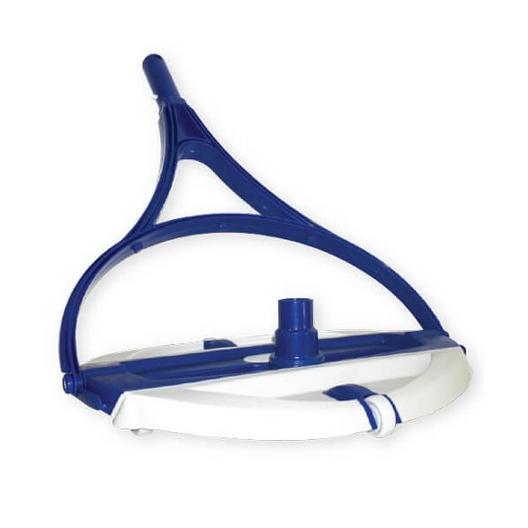 Tired of cleaning your pool the hard way with an old-style vacuum that hasn't changed in decades? The Supreme Vacuum Head is the new smart vac that's packed with cutting edge features like disk technology - previously only available in automatic cleaners! The flexibility of a disk combined with the strength of our Wishbone Frame, creates the best possible combination of strength, performance and ease of use. More Details
Membership Available
Standard Shipping
- Ship To Home.
Description
Tired of cleaning your pool the hard way with an old-style vacuum that hasn't changed in decades? The Supreme Vacuum Head is the new smart vac that's packed with cutting edge features like disk technology - previously only available in automatic cleaners! The flexibility of a disk combined with the strength of our Wishbone Frame, creates the best possible combination of strength, performance and ease of use.
The Super-Flexible disks (white areas) create a low pressure area at the front and rear, which improves suction for collecting leaves, twigs, pebbles and fine dirt from the pool.
Not compatible with the Pro Dual Cam Telepole, item A3018.
Features:
Flexible Disk Technology
Wishbone Frame
6 Nylon wheels with bearings
Swivel hose connection
Forward suction port
Unique molded hinge
---
Details
Unlike other manual cleaners, The Supreme Vacuum Head has the suction point as far forward as possible. This means dirt and debris is picked up as quickly as possible and not stirred up in the water. Most manual cleaners have the suction point in the center, which means dirt and debris is often pushed out of the way and left in the pool. No chance of this with ours! The combination of the flexible disc and the forward suction gives it unrivaled debris pick-up.
The Concrete model has six nylon wheels, each mounted on its own solid, fixed axle and running on bearings, make it ultra-easy to move around any gunite, fiberglass or tiled pool.
This model also has a unique molded hinge that allows the front and rear disk portion to flex up, to overcome any in-pool obstacles, while allowing it to get really close to steps, walls and tight corners.
There is also a swivel connection for the hose, to make movement around the pool easier and eliminate possible tangling and distortion of the hose. Additionally, is has a twin pivot system with two connection points located at the widest part of the cleaner.
The leverage created by this makes changing direction quick and easy. Steering a manual cleaner has never been easier or more accurate. Maneuvering the cleaner around a pool is now almost effortless.
Features:
Flexible Disk Technology
Wishbone Frame
6 Nylon wheels with bearings
Swivel hose connection
Forward suction port
Unique molded hinge