VAUPELL INDUSTRIAL PLASTICS - Supertensioner - Black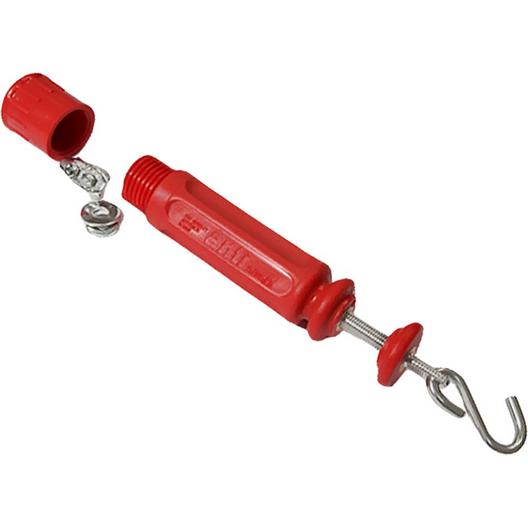 The Supertensioner provides a quick easy way to tighten lane lines without the need for extra tools or ratchet mechanisms. More Details
Membership Available
Standard Shipping
- Ship To Home.
---
Description
The Supertensioner provides a quick easy way to tighten lane lines without the need for extra tools or ratchet mechanisms.
The Supertensioner can easily be fitted to any manufacturer's lane lines and comes with a 5-Year Warranty. Available Colors: Red, Royal Blue, White, Green, Yellow, Black, Orange, Teal, Grey, Purple, Maroon, Navy Blue
---
Details
Easy to Adjust. All you need to tension or release the lane line is a few twists of the wrist. There is no ratchet mechanism, there is no wrench to lose.
Can't be accidentally released. All other ratchet-type tensioning devices can be "tripped" accidentally, often resulting in a mess of cable and ratchet teeth. With its lock-nut feature, this simply cannot happen with our turnbuckle system.
Will not fray the cable. The body of the Supertensioner is designed to rotate around the cable, rather than the cable being tightly wound around a small-diameter drum. This effectively removes fraying cable, safety concerns and the need for plastic coated cable from the equation.
Saves time and eliminates hassles. After initial installation, getting lanes in and out of the pool is a matter of minutes.
Can be used on existing lane lines. If it is time to upgrade or replace existing tensioning devices, the "Supertensioner" is designed to fit any lane line using 4 mm cable.
Comes fitted as standard on all AntiWave "Maximum" and "ForeRunner" lanes. Custom lane lines do not come with the Supertensioner.