Leisure Time - Spa 56 Chlorinating Granules 2lbs.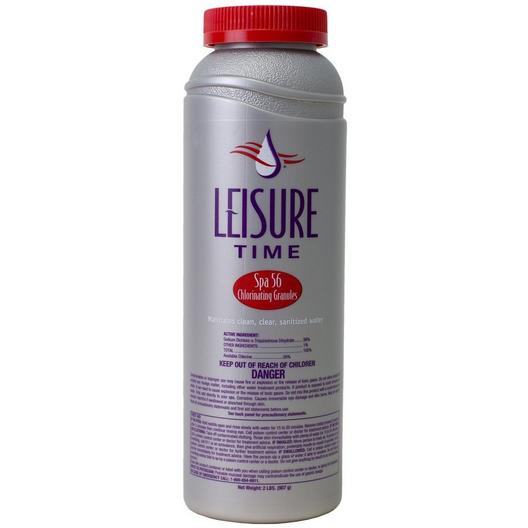 Granular Chlorine designed to shock and sanitize hot tubs and spas. More Details
Standard Shipping
- Ship To Home
---
Description
Granular Chlorine designed to shock and sanitize hot tubs and spas.
---
Details
Leisure Time Spa 56 Chlorine Granules are a convenient way to both sanitize and shock a spa with a powerful but gentle chlorine oxidizer. Used in small doses, it can be used as a daily chlorine treatment for indoor or outdoor spas. In higher doses, it will oxidize the water completely, to control chloramines and bromamine formation and to kill algae, bacteria and pathogenic germs in your spa and hot tub. Spa 56 also makes a great shock for bromine spas, to reactivate bromide ions.
Spa 56 Chlorinating Granules are made with a soft sodium dichlor, in a 56% available formula. Spa 56 is the only spa sanitizer that is both pH neutral (7.0) and contains no calcium, so it wont add to water hardness problems. Spa 56 also contains a sunscreen, to protect it from UV degradation, which means you can add it during the day, with the cover off.
As a daily spa treatment, use just 1/2 oz per 500 gallons to raise chlorine levels above 3 ppm. To shock the spa add 1 oz per 500 gallons, to break down soapy, oily and dirty contaminants, and sanitize and disinfect the water to kill any disease causing organisms. Spa 56 granules are fast dissolving, and easy to use for regular treatment.
Product size: 2 lb
This item can only be shipped via Ground Shipping.
It cannot be shipped to Hawaii, Alaska or any other locations by Air.