Pleatco - Pool FilterWash Tablet for Cartridge Filters, Single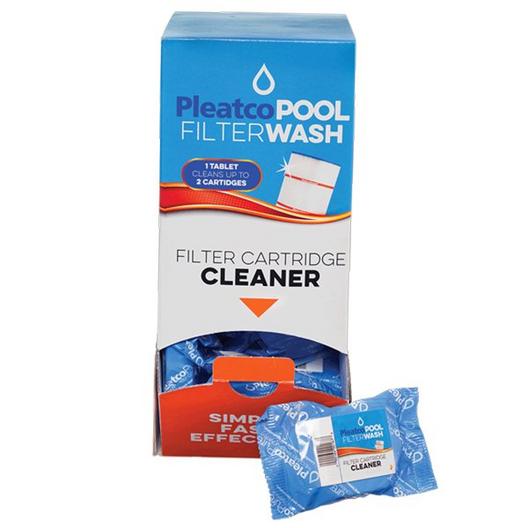 Easily clean your filter cartridge without chemicals and no measuring with the Pleatco PWASH-POOL Pool FilterWashTM Tablets for Cartridge Filters! More Details
Membership Available
Standard Shipping
- Ship To Home.
---
Description
Easily clean your filter cartridge without chemicals and no measuring with the Pleatco PWASH-POOL Pool FilterWashTM Tablets for Cartridge Filters!
Fast Acting Fizz Tablet
Eliminates body oils, suntan lotion, and dirt.
Loosens debris from the filter's fabric filtration surface.
Safe and easy to use for cartridge filters.
100% Environmentally Friendly.
No Measuring. No chemicals.
Each tablet cleans up to two filter cartridges.
Please Note: Includes one single tablet
---
Details
This unique and environmentally filter wash system, comes in individually wrap tabs for easy handling.
The Pleatco PWASH-POOL Pool FilterWash Tablets deeply penetrates your filter cartridge to remove suntan lotion, oils, body oil, grease, dirt, soap scum, and other organics.
How to Use
Rinse loose debris from the filter cartridge.
Fill a bucket of water and place one Pleatco FilterWash tablet.
Submerge the cartridge and let it soak for 25 minutes for maximum results.
Remove the cartridge, spray with a hose to clean off excess debris.
To dispose of water, throw the water into the yard without harming the environment.
For Larger Cartridges; You can use a bigger container or soak one end of the filter in a bucket for 25 minutes and spin the filter to soak the other end for another 25 minutes.
Frequently Asked Questions
Can I only use Pleatco Filter Wash on Pleatco cartridges?
FilterWash cleans any reusable filter cartridge regardless of make or model.
Should I use cold or hot water?
Pleatco FilterWash is optimized to work at tap water temperature. Warm water can slightly speed up the cleaning action in controlled environments.
Can I soak overnight?
For best ( maximum) results soak for 25-30 minutes. However, although not required, if left to soak for long periods of time, the cartridge will not be damaged by the solution.
Can I safely throw out the water after using Pleatco FilterWash?
Yes, Pleatco FilterWash is environmentally friendly and the water can be safely discarded after use.
---