Hayward VGB Main Drain Cover White WG1048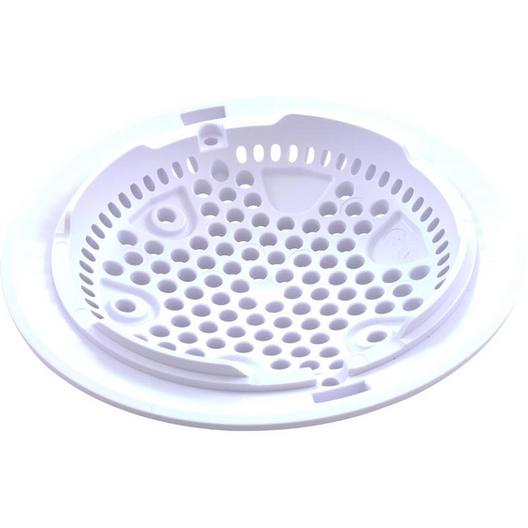 8" diameter VGB compliant drain cover for Hayward main drains. 2 screw holes, 6" apart. SS screws are included. White color; black and grey also available. More Details
Membership Available
Standard Shipping
- Ship To Home.
Description
8" diameter VGB compliant drain cover for Hayward main drains. 2 screw holes, 6" apart. SS screws are included. White color; black and grey also available.
E1868 - HAYWARD WHITE 8 inch SUCTION OUTLET COVER - WGX1048E
BASIC SPECS:
CENTER TO CENTER SCREW HOLE MEASUREMENT: 6 inches
USAGE: APPROVED FOR FLOOR ONLY USAGE
SPECS SHOWN BELOW ARE FOR A SINGLE UNIT
FLOOR MAXIMUM SUCTION: 125 GPM
LIFE: 7 YEARS
TOTAL OPENING: 8.1 SQ INCH
37.8 GPM @ 1.5 FPS
DETAILED DESCRIPTION:
THIS IS THE HAYWARD WGX1048E MODEL ROUND FLOOR COVER THIS IS AN ANTI-ENTRAPMENT RETROFIT COVER AND SCREWS THE TOP IS SOLID WITH A GRATED OPENING ALL ROUND THE OUTSIDE THERE ARE A LARGE NUMBER OF ROUND HOLES IN THE TOP
MATERIAL:
PLASTIC COVER, STAINLESS STEEL SCREWS
COLOR:
WHITE (Also available in Black and Grey)
SHAPE:
ROUND
COVER DIMENSIONS:
COVER OUTSIDE DIAMETER: 7-3/4 inches (A) (MAIN FLANGE RING) COVER TOTAL HEIGHT: 1-5/8 inches (B) MAXIMUM HEIGHT ABOVE MAIN DRAIN BODY: 1-1/2 inches
SCREW HOLES:
2 SCREW HOLES SPACED 6 INCHES APART MEASURED AT THE CENTER OF THE HOLE.
SCREWS:
THERE ARE 4 SETS OF SCREWS INCLUDED. THIS ALLOWS THE COVER TO BE USED WITH THE VARIOUS HAYWARD ROUND MAIN DRAINS AND FRAME AND COVERS, BOTH CURRENT AND OLDER VERSIONS. 2 SCREWS - #10-24 x 15/16 in. MACHINE THREAD (PART# WG1030Z2AM SET OF 2) 2 SCREWS - #10-24 x 1-1/4 in. MACHINE THREAD (PART# WG1030Z1AM SET OF 2) 2 SCREWS - #12 x 1-1/2 in. SELF TAPPING (PART# WG1030Z2A SET OF 2) 2 SCREWS - #12 x 1-1/4 in. SELF TAPPING (PART# WG1030Z1A SET OF 2)
MARKINGS:
HAYWARD WG1048E IS MOLDED INTO THE COVER. THE SPECS AS REQUIRED BY THE VGB-2008 LAW ARE ALSO MOLDED ON THE COVER.
---
Details
HAYWARD ANTI-ENTRAPMENT SUCTION OUTLET COVERS

Hayward Anti-Entrapment Suction Outlet Covers are compliant with the VIRGINA GRAEME-BAKER POOL AND SPA ACT (ASME/ANSI A112.19.8-2007).

Designed for use with concrete, vinyl and fiberglass pools, Hayward suction outlet covers are available in round or square with sizes to match most installation requirements. Manufactured from rugged, UV resistant polymers, each Hayward drain cover is NSF listed and includes stainless steel hardware. Whether installing or replacing covers and frames, Hayward suction outlets set the standard in quality and value.