Aqua Splash H-Style Off-Line Chemical Feeder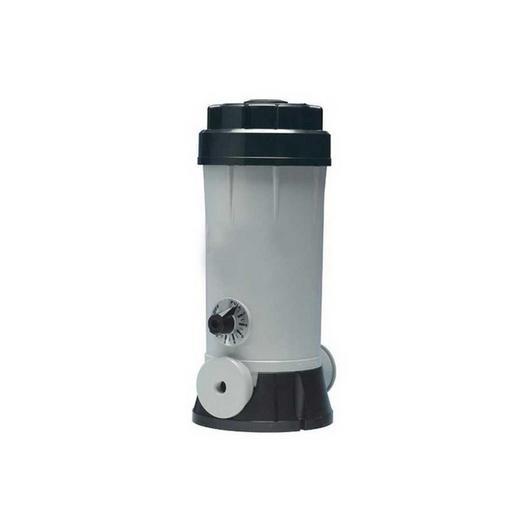 Sanitize your pool easily and safely with the H-Style Off-Line Chemical Feeder for in ground swimming pools. It's efficient in thoroughly mixing chlorine or bromine with a fin-control valve to adjust the feed rate evenly across your pool. This chemical feeder holds up to 9 lbs of chlorine or bromine tablets or sticks. Reduce the manual labor or handling pool chemicals with the H-Style Off-Line Chemical Feeder. More Details
Membership Available
Standard Shipping
- Ship To Home.
Description
Sanitize your pool easily and safely with the H-Style Off-Line Chemical Feeder for in ground swimming pools. It's efficient in thoroughly mixing chlorine or bromine with a fin-control valve to adjust the feed rate evenly across your pool. This chemical feeder holds up to 9 lbs of chlorine or bromine tablets or sticks. Reduce the manual labor or handling pool chemicals with the H-Style Off-Line Chemical Feeder.
Chemical feeder
Suitable for in ground swimming pools
Holds 9lbs of chlorine/bromine tablets or sticks
---
Details
An automatic pool chemical feeder makes life easy when it comes to maintaining a pool. This is the same design and construction as a popular chlorinator that we also sell, but at a lower price than a CL200/CL220 chlorinator replacement. Our offline chlorinators make excellent replacements for Hayward CL200 and Cl220 chlorinators.
All you have to do is load the feeder with up to 9 pounds of tablets or sticks and set the dial. Test weekly and adjust as necessary depending on bather load, pump run time, and desired chlorine level. With your system off, you can check the tank and refill as necessary and eventually you will fall into a simple routine that's worlds apart from constantly loading a floater. For best results, apply lube to the lid O-ring in the spring and fall.
Our off-line feeder includes fittings and hose to tap into your PVC return line. Off-Line Feeder is mounted at ground level.