73% Super Strength Pro Pool Shock 50 LB Bucket, 70% Available Chlorine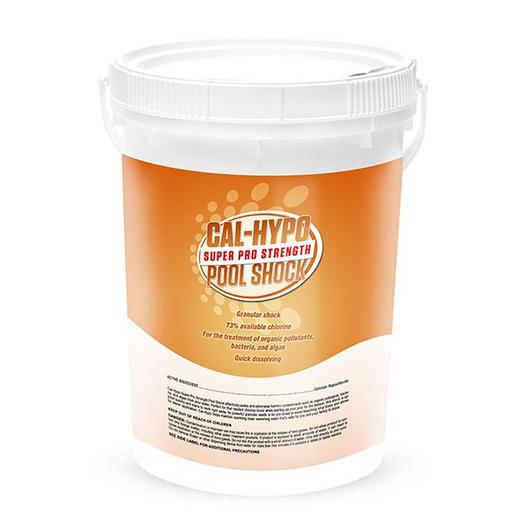 Cal-Hypo Super Strength Pool Shock 50 LB Bucket gives you a quick and effective way to shock your pool and keep it sparkling clean. More Details
Membership Available
Standard Shipping
- Ship To Home.
Description
Cal-Hypo Super Strength Pool Shock 50 LB Bucket gives you a quick and effective way to shock your pool and keep it sparkling clean.
Pool Shock and Super Chlorinator
Fast dissolving granular formula
73% Cal-Hypo (Calcium Hypochlorite)
70% available chlorine
Available in 50lb Buckets- 100lb option arrives as two 50lb buckets for no extra charge!
Kills 99.9% of bacteria or algae
Prevents future growth of algae
Non-Stabilized Calcium Hypochlorite
Note: Items received have the same chemical make-up, but may not look exactly like the item pictured above
---
Details
Cal-Hypo Super Strength Pro Pool Shock 50 LB Bucket is a calcium based chlorinated granular shock. It is 73% Cal-Hypo and 70% Available Chlorine. That makes this the strongest granular shock you can buy. It quickly dissolves in your swimming pool to kill bacteria, algae, and other harmful contaminants. Maintaining proper chlorine is essential to keep your pool safe for swimming.
Cal-Hypo can be used as a maintenance product or treatment product. Pools that are prone to algae, debris, sunlight, and swimmers may require more frequent doses.
Usage Directions:
Routine Chlorination
Add 16 ounces of Cal-Hypo per 16,500 gallons of water directly to the pool, casting it around the perimeter as often as needed to maintain the desired free chlorine residual.
Common Questions:
What makes this the most powerful shock?
The product is 70% available chlorine, which is the highest concentration of chlorine in a granular product you can get.
Can my water get cloudy after adding?
Yes, This is a calcium based chlorinated shock. While quick dissolving the calcium still takes time to be accepted into solution.
How should I add this to my pool?
Broadcasting it across the surface or walking around the perimeter evenly distributing the granular around the pool.
---
Highlights

The fast dissolving formula acts quickly to distribute itself through the water removing any bacteria, algae, or contaminants within your swimming pool.

Shocking your swimming pool helps keep your water fresh by ridding it of contaminants. Getting rid of the bacteria, algae, and contaminants in your pool helps your chlorine work more effectively leaving you with sparkling waters.

Cal-Hypo Super Strength Pro Pool Shock is ideal for spring openings and for battling stubborn algae blooms. Additionally, we recommend shocking your pool water weekly during peak swimming season to destroy bacteria, algae, and organic waste that regular chlorination may have missed. You'll always feel sure that your water is safe and ready to be enjoyed.
---
Specs
| | |
| --- | --- |
| Product Type: | Pool Chemical |
| Chemical Type: | Shock |
| Active Ingredient: | Calcium Hypochlorite |
| Chemical Size: | Granular |
| Container Size: | Bucket:50 lb |
| Pool Surface: | All Surfaces |
| Pool Type: | Above Ground |
| Pool Type: | Commercial |
| Pool Type: | In Ground |
| Pool Type: | Residential |
| Sanitation Type: | Granular Chlorine |
| Product Dimensions: | 13" Width x 19" Length x 13" Height |
| Product Weight: | 50 lbs. |