Hayward - W3EC75A Perflex 40 sq. ft. DE Pool Filter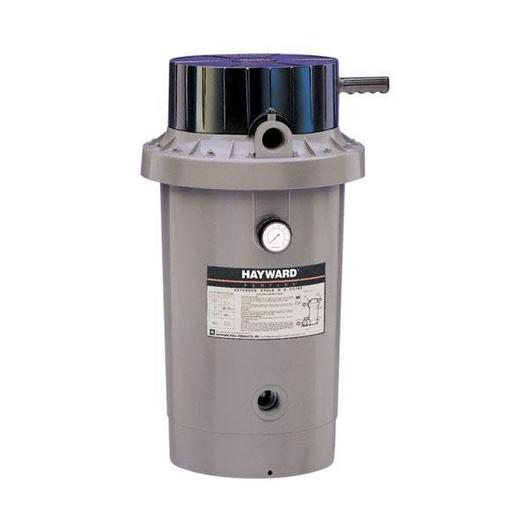 Hayward W3EC75A Perflex Extended Cycle D.E. Filter, 40 Sq Ft is designed for continuous operation on in-ground or above ground pools. More Details
Membership Available
Standard Shipping
- Ship To Home.
---
Description
Hayward W3EC75A Perflex Extended Cycle D.E. Filter, 40 Sq Ft is designed for continuous operation on in-ground or above ground pools.
Valve sold separately
In-ground pools of all types and sizes
Exclusive bump handle activates the mechanism causing the Flex-Tubes to instantly and uniformly clean themselves of dirt and filter powder
Self-venting design automatically expels any air that may be present in the system
Proven, patented Flex-Tube filter elements efficiently reuse the filter powder and dirt mixture forming a fresh filtering surface
Combination pressure gauge and threaded inspection/service port is easy to read and remove when filter needs cleaning
Heavy-duty filter tank injection-molded of high-strength glass filled chemically coupled PPL for dependable, corrosion-free performance
Integral check valve prevents system backflow whenever pump is off
---
Details
Hayward W3EC75A Perflex Extended Cycle D.E. Filter, 40 Sq Ft is designed for continuous operation on inground or above ground pools. The Hayward EC75 filter uses DE filter powder. Diatomaceous earth is the most efficient filter media known.
The filter is charged by adding DE to the skimmer with the skimmer running on full. Cleaning is recommended when the filter is 10 - 12 PSI higher than its starting PSI.
To Clean:
First, stop the pump, then move the bump handle down slowly, then up briskly.
Repeat 8 times.
The Hayward Perflex's exclusive BUMP action, causes the DE to shed from the fingers inside the tank, dirty DE and clean DE mix together and recoat the fingers. When the filter powder is totally used, the BUMP action makes it possible to drain the used DE without backwashing or dismantling the filter.
Open the filter drain and open the vent valve (Note: if the filter is installed below the pool water line, close the suction and return valves) and allow water and dirt to empty completely. After the filter has drained, and with the drain still open, run the pump for a few seconds to flush out any dirt remaining in the bottom of the filter.
Close the filter drain and the vent valve. Open the suction and return valves to return to normal circulation. Perflex Extended-Cycle D.E. filters clean pools fast, removing particles as small as two microns the first time through.
---
Highlights

D.E. is a natural substance that captures dust, dirt and debris as small as 5 microns. A D.E. filter system removes body oils, suntan lotions, pollens, dust, and even some bacteria, making your swimming pool a healthier environment.

D.E. Filter systems cut energy costs by using lower pump pressure and speeds. If properly taken care of and rinsed regularly, they can significantly reduce water use. In addition to cost savings, lower pump pressure can help prolong the life of your pool pump!

A D.E. Filter maximizes the useful filtration area. A larger filtration area means longer periods between each cleaning, saving you time on pool maintenance and giving you more time to relax and enjoy your pool.
---
Specs
| | |
| --- | --- |
| Product Type: | Pool Filter |
| Filter Type: | Diatomaceous Earth |
| Installation Type: | Residential |
| Pool Type: | In Ground |
| Manufacturer: | Hayward |
| Warranty: | 3-Year |
---
---
Warranty
Three (3) Year Limited Warranty on Product, see Owner's Manual for a full description of warranty claims and coverage details.