Supreme 18" Nylon Fan Bristle Wall Brush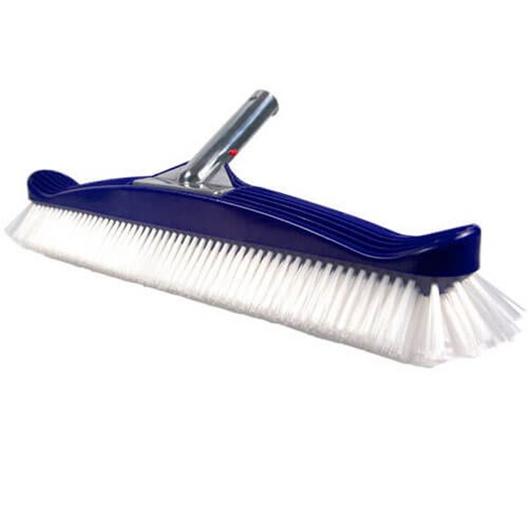 The Supreme 18 Fan Bristle Brush is the evolution of the the swimming pool brush. It has unique features unlike any brush that has come before it! More Details
Membership Available
Standard Shipping
- Ship To Home.
Description
The Supreme 18 Fan Bristle Brush is the evolution of the the swimming pool brush. It has unique features unlike any brush that has come before it!
The ergonomic design of Duo Brush makes it easy to move around the pool. The angle of the stainless steel handle has been refined to for a more natural, relaxed, upright position when brushing the pool - say goodbye to the backbreaking maneuvers necessary with a conventional brush! Duo Brush has a tough, stainless steel handle to cope with all the loads and pressure of cleaning a pool. Over 20,000 nylon bristles ensure the brush is most effective. The fan layout of the bristles allow different portions of the brush to be used to clean different areas of the pool. The back is best for the wall while the front and center bristles come into action as you transition to the floor. The fan design also ensures the bristles do not collapse as the brush is used. Moreover, the angled bristles at each end are unique; no other brush has bristles that extend beyond the brush frame. This makes it easy to access those tight areas and corners of the pool.
Features:
18 inches wide with a 4" wide fan of bristles
Over 20,000 angled bristles
Angled bristles do more work
Design is highly ergonomic and easy to use
High impact plastic with aluminum handle
Spring clip included
Fits most standard pool telescoping poles
Safe for all surfaces
---
Details
Brushing your pool just got a whole lot easier with the revolutionary Supreme Fan Bristle Brush! It's big and easy to use at 18" wide with a fan of bristles measuring more than 4 inches front to back. The size makes it not only quicker, it's much easier too! Not compatible with the Pro Dual Cam Telepole, item A3018.