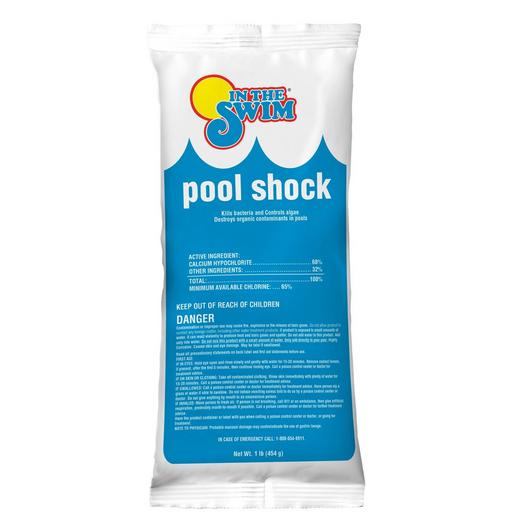 Fast Acting & Quick Dissolving Cal-Hypo Pool Shock Treatment More Details
Subscription Available
Standard Shipping
- Ship To Home.
Description
Fast Acting & Quick Dissolving Cal-Hypo Pool Shock Treatment
---
Details
Swimming pool shock treatments are an essential aspect of spring pool opening but can also be used to give your pool a quick chlorine boost. Pool shock is our most popular and versatile pool shock treatment, used to kill algae and bacteria and remove micro-contaminants that make pool water cloudy. In The Swim Pool Shock also breaks apart chloramines for fresh water that won't smell like chlorine and make swimmers eyes red.
Powerful chlorine shock treatment is great for Spring start-up!
Ideal for a quick chlorine boost when fast-action is needed.
Add Pool Shock directly to your pool water.
Powerful 68% Calcium Hypochlorite (Cal-Hypo) granular.
65% Minimum Available Chlorine.
Dosage: 1 lb. per 10,000 gallons.
In The Swim Pool Shock is our most economical chlorine shock treatment for pools, sold in convenient 1 lb. bags. Powerful formula contains 68% calcium hypochlorite in a powerful 65% minimum available chlorine formula. Granular chlorine Pool Shock is used for a variety of purposes to sanitize and disinfect pools, spas and fountains. Easy to use Pool Shock effectively treats 10,000 gallons of pool water per bag.
Use our Pool Shock to kill visible algae blooms and invisible bacteria, which could cause illness to swimmers. Your daily chlorination of the pool will kill most pathogenic bacteria, viruses and microbes, however to be sure that the water is sanitary, it is good practice to 'shock the pool', or super-chlorinate the pool every few weeks, to oxidize everything in the water, especially the invisible germs that may be living in the water.
One pound of In The Swim Pool Shock will raise free chlorine levels in a clean and balanced pool to 9 ppm, per 10,000 gallons of pool water. Pools with excessive debris, algae, suspended particles or heavy sunlight will need a proportionally higher dose of pool shock, to compensate for such factors. A double or triple dose is often required for poor water conditions such as spring openings, bacteria contamination, or severe algae blooms.
---
Specs
| | |
| --- | --- |
| Product Type: | Pool Chemical |
| Chemical Type: | Shock |
| Sanitation Type: | Granular Chlorine |
| Active Ingredient: | Calcium Hypochlorite |
| 6-Pack Dimensions: | 8.4" W x 10.3" L x 4.7" H - 6.72 lbs. |
| 12-Pack Dimensions: | 9.9" W x 10.8" L x 5.3" H - 13.07 lbs. |
| 24-Pack Dimensions: | 10.4" W x 11.3" L x 11.3" H - 27 lbs. |