Natural Chemistry - Pool Perfect + PHOSfree 2 L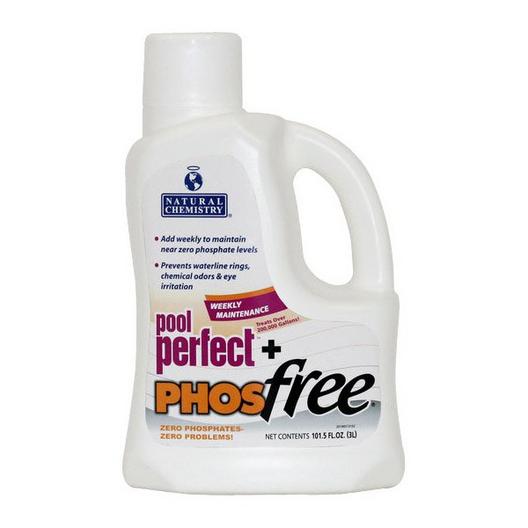 Pool Perfect + PHOSfree 2L is a weekly maintenance product that removes phosphates and non-living organics improving pool water quality and reducing maintenance. More Details
Membership Available
Standard Shipping
- Ship To Home.
---
Description
Pool Perfect + PHOSfree 2L is a weekly maintenance product that removes phosphates and non-living organics improving pool water quality and reducing maintenance.
Maintains phosphate level near zero
Cleans waterline and filter while reducing surface oils and other non-living organics
Broad spectrum enzymes reduce the build-up of non-living organic contamination
Weekly dosage of Pool Perfect+PHOSfree will improve water quality and reduce maintenance
---
Details
Natural Chemistry Pool Perfect + PHOSfree is a weekly maintenance product that reduces phosphates and non-living organic waste to near zero in your pool. Adding one 4 oz. capful to the skimmer will treat up to 8,000 gallons per week.
Pool Perfect + PHOSfree is one of the best ways to prevent the growth of algae. The PHOSfree component of the product removes the phosphates, or food for algae, from the water. Common sources of phosphates can be from leaves, rain, animals, and even from people swimming in the water. With the addition of SMARTZyme technology, this product provides an enzyme that breaks down oils to help keep the water as clean as it can be. For best results, make sure that the sanitizer level in the water is below 4ppm before adding to the water. Use it to make your water feel soft and silky while preventing problems like waterline rings, non-living organic staining, surface oils, and phosphate build-up.
Adding Pool Perfect + PHOSfree to your weekly maintenance routine will help reduce the use of other chemicals while saving time and money.
Common Questions:
What are the benefits of using Pool Perfect + PHOSfree weekly?
It prevents algae growth by removing phosphates from the water and helps reduce chemical costs. It breaks down non-living organic contaminants and helps keep water chemistry levels such as pH and Total Alkalinity in balance.
What color is Pool Perfect + PHOSfree?
The color is an Amber color.
How much of Pool Perfect + PHOSfree would you add for a 16,000 gallon pool?
You would add two 4 oz. cap-fulls for your weekly maintenance dose in the skimmer for a 16,000-gallon pool.
---
Highlights

Taking advantage of naturally occurring enzymes, Natural Chemistry provides a simple, non-toxic solution to breaking down organic materials quickly and safely in your pool.

Get your pool sparkling fast with a wide selection of pool and spa products ranging from balancers to natural sanitizers and oxidizers for your spa to phosphate removal, salt water magic to metal and scale control for your swimming pool.
---
Specs
| | |
| --- | --- |
| Product Type: | Pool Chemical |
| Chemical Size: | Liquid |
| Container Size: | Bottle:2 L |
| Chemical Type: | Phosphate Removal |
| Eco-Friendly: | Yes |
| Manufacturer: | Natural Chemistry |
| Dosage: | 4 oz per 8,000 gallons |
---
---
Warranty
See Owner's Manual for details