Leslie's - Perfect Weekly Triple Action Phosphate Remover - 3L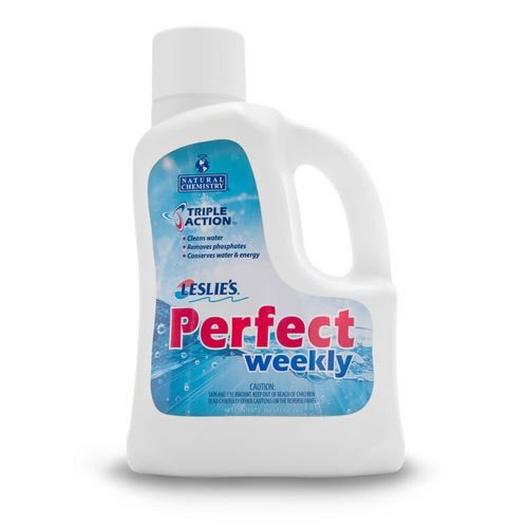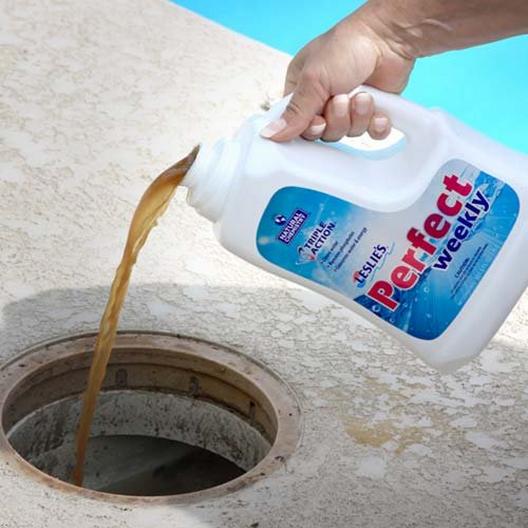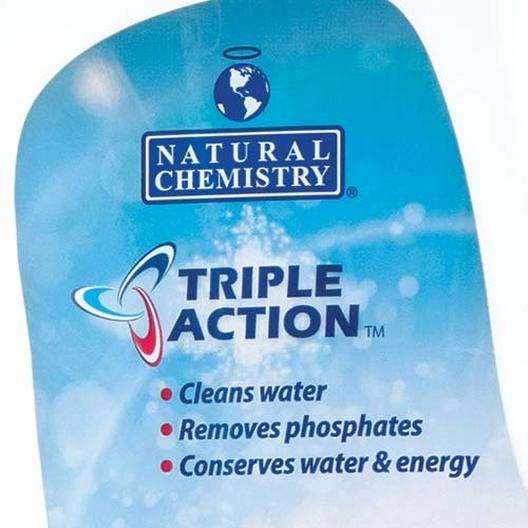 Leslie's Perfect Weekly is the only 3-in-1 pool maintenance product removing phosphates, oils, other non-living organics, and reduces water loss for healthier water and energy savings. More Details
Subscription Available
Standard Shipping
- Ship To Home.
---
Description
Leslie's Perfect Weekly is the only 3-in-1 pool maintenance product removing phosphates, oils, other non-living organics, and reduces water loss for healthier water and energy savings.
Cleans water
Removes phosphates
Conserves water & energy
noPHOS traps phosphates (food for algae) in the pool filter which are eliminated from the water after a filter clean or backwash
SMARTzyme broad spectrum formula breaks down oils and non-living organic contaminants reducing water sanitizer demand
COVERfree water evaporation reducer lowers heat loss and reduces chemical use saving money on pool maintenance
Helps prevent algae by maintaining phosphate level below 100 ppb
Lowers costs on chemical use and water consumption
Safe for use in all types of pool filters including cartridge, D.E and sand filters
Improves overall water quality and efficiency for healthier pool water
Easily added to pool skimmer while main circulation pump is operating
Add one capful per 8,000 gallons of water weekly for superior pool water quality
---
Details
Nobody wants to spend more on pool maintenance than they have to. That's why there's Leslie's Perfect Weekly! A Leslie's exclusive, this 3-in-1 pool care product helps keep your water clean and clear, saving you time and money. Leslie's Perfect Weekly is the only triple action pool maintenance product that removes phosphates, breaks down oils, non-living organics, and reduces water loss. Leslie's Perfect Weekly is so easy to include in your regular pool maintenance routine. Simply add one capful per 8,000 gallons of water per week to your pool skimmer while the pool's circulation pump is running. That's all it takes to start enjoying the benefits that Perfect Weekly provides for you and your pool water. Leslie's Perfect Weekly is made of three key components all produced by Natural Chemistry, the leader in specialty water care products.
noPHOS Phosphate Remover Helps Prevent Algae Growth
The first component is noPHOS phosphate remover. It contains lanthanum which traps phosphates, or algae food, in the pool filter. Once the filter is cleaned, or backwashed depending on the filter type, the phosphates are eliminated from the pool water. Potential phosphate sources can include tap water, leaves, pollen, fertilizers, and pet dander. Keeping low levels of phosphates in the water, along with proper sanitization, water balance, and circulation/filtration, are the best way at preventing pool algae blooms. When phosphate levels are low, that means there is only so much food for the algae to consume, therefore growth is extremely limited. It's a lot easier to manage when all they have to eat, and grow is a single appetizer rather than having access to an all-you-can-eat buffet!
SMARTzyme Broad Spectrum Enzyme Formula Cleans Water
The second component is SMARTzyme, a special enzyme formula that breaks down oils and non-living organic contaminants in the water. These types of oils and non-living organics can be introduced into the water frequently from suntan lotions, body oils, sweat, cosmetics, soaps, and other non-living organic waste. Too much of an organic load in the pool water uses up the sanitizer more rapidly, most commonly chlorine. This creates more of a struggle to keep sanitizer levels where they should be. When enzymes are used regularly, it breaks organics down to reduce the demand on the sanitizer, increasing the effectiveness and longevity of the sanitizer as well. The enzyme formula in Leslie's Perfect Weekly also reduces waterline ring, surface oils and unpleasant odors. This leaves your pool water clean and clear ready for everyone to enjoy.
COVERfree Conserves Water & Energy
The final and third component is COVERfree, a monomer that forms a very thin layer on top of the pool water's surface. This increases the surface tension as well as forming an invisible barrier that conserves water and chemical use while also preventing heat loss in the pool. According to the U.S. Department of Energy, water evaporation is the largest source of energy loss in both indoor and outdoor swimming pools. Most water evaporation happens at night, which is when the most heat loss is experienced too. For pools with heaters, using Leslie's Perfect Weekly will save the time and energy to run the heater, lowering your overall pool heating costs. Leslie's Perfect Weekly will help lower your expenses on not only the chemicals added to treat the pool water, but also your utilities bills.
Leslie's Perfect Weekly Perfect 3-in-1 Pool Maintenance Product
These three key components make up Leslie's Perfect Weekly. The only triple action product for pool maintenance that can give you and your pool these benefits and savings. Leslie's Perfect Weekly is the must-have pool maintenance product for every pool owner. After all, we're Leslie's and We Know Pools.
---
Specs
| | |
| --- | --- |
| Chemical Size: | Liquid |
| Chemical Type: | Algae Prevention, Algaecide, Chemical Solar Cover, Clarifier and Phosphate Removal |
| Container Size: | Bottle:3 L |
| Dosage: | 1 capful per 8,000 gallons |
| Eco-Friendly: | YES |
| Manufacturer: | Leslie's |
| Product Type: | Pool Chemical |
| Product Dimensions: | 4" Width x 11" Length x 6.5" Height |
| Product Weight: | 6.736 lbs. |