Instant Liquid Chlorine 4 pack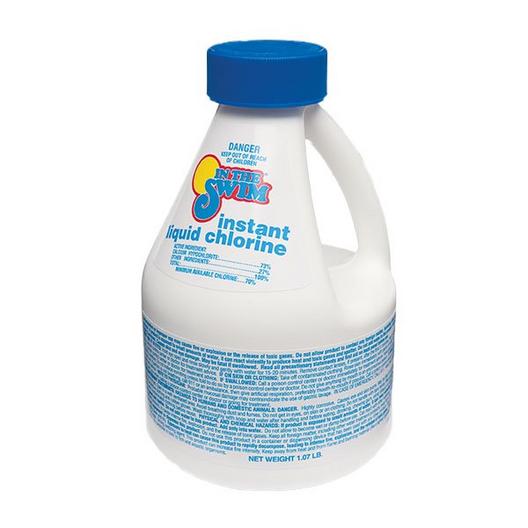 4-Pk Instant Liquid Chlorine More Details
Subscription Available
Standard Shipping
- Ship To Home
Description
4-Pk Instant Liquid Chlorine
---
Details
Buying bulk liquid chlorine is the best way to eliminate frequent trips to the pool supply store. It also eliminates having to carry many buckets of chlorine that can ruin your clothes along with the inside of your car. In the Swim instant liquid chlorine is an easy-to-use powdered chlorine mixture that dissolves instantly when added to your pool. It's safer and easier to use than regular chlorine and safer to store, too.
Pour instant liquid chlorine into your pool just like ordinary chlorine
Bulk liquid chlorine comes in 1.07 lb. bottles; shipping in cases of 4
Acts like liquid chlorine shock, powder dissolves quickly in pool
Safer to use, carry and store
Directions for Use:
Add the recommended dosage of this product during evening hours while the filter pump is running. When adding this product to your pool, broadcast the product evenly over a wide area in the deepest part of the pool. Use a clean, dry scoop to measure this product. Do not use the scoop for any other purpose. If any granules settle to the bottom of the pool, use brush to disperse. Routine Chlorination: For best results, maintain pH in the range of 7.2 to 7.6. Maintain total alkalinity in the range of 80 to 120 parts per million (ppm). Maintain calcium hardness above 200 ppm.
How Much Do I Need?

Check available chlorine with a suitable test kit. Each 0.2-0.4 ounces of this product will provide approximately 1-4 ppm available chlorine in 500 gallons of water.
For Unstabilized Pools: Add 5-7 ounces of this product per 10,000 gallons of pool water daily or as often as needed to maintain the free available chlorine residual at 1-4 ppm.
For Pools Stabilized Using Cyanuric Acid: Add 3-5 ounces per 10,000 gallons every other day or as often as needed to maintain the free available chlorine residual at 1-4 ppm.
---