Safety Cover Repair Program
SAFETY COVER REPAIR & REPLACEMENT PROGRAM
In The Swim prides itself on always offering the best service to our customers. With this program, we have made it easy and economical to have your pool safety cover repaired or replaced.
EASY AS 1, 2, 3!
1Once you submit the RA Form*, you will receive a box (at no charge) to return your current cover for repair or template replacement.
2A prepaid shipping label and an RA (Return Authorization) label to put on the box, and an RA tag to attach your cover.
3The fastest turnaround times in the industry on a great service that is available year-round with no inconvenient deadlines.
*This program applies to residential size covers only. Box size is 24" x 24" x 42" and will hold up to approximately a 22' x 42' cover size. For larger or commercial size covers, please contact ITS Customer Service at 1-800-288-7946.
Begin Your Return
Cover Repair
When We Receive Your Cover:
All covers will go through a 20-point inspection to ASTM Standards by a qualified technician to assess if your cover is repairable, to determine the types and cost of repairs needed, or to recommend and quote for a new replacement cover.
Cover Repair:
All repaired covers will be measured and tagged with re-order number for ease of cover replacement (when necessary in the future).
Once we receive your authorization for the repairs, we will perform the repairs and ship your cover back to you.
Standard freight rates will apply.
Average repair costs range from $250.00 to $1,000.00, depending on the extent of damage.
If the repair cost is over $300.00, a quote will be provided for the repair AS WELL AS a quote for a new cover.
If the cover is not repairable, we will ONLY provide a quote for a new cover.
Examples of Repairable Items:
Chaffing strap replacement
Webbing replacement
Snap-hook or D-Ring replacement
Holes smaller than 4" will be repaired with a sewn patch
Holes larger than 4" will be repaired by capping the entire square
Steps: Adding or removing a step section
Drain: adding or capping a drain section
Cut-out: Adding or capping a cut-out section
Holes: Smaller than 4" will be repaired with a sewn patch.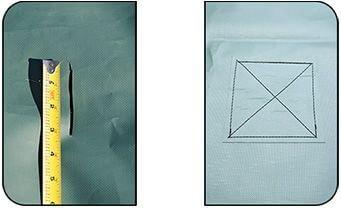 Holes: Larger than 4" will be repaired by capping the entire squre.
Steps: Adding or removing a step section.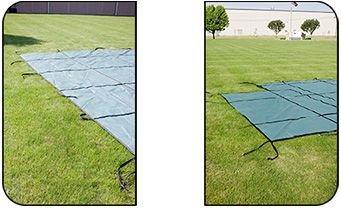 Drain: Adding or capping a drain section.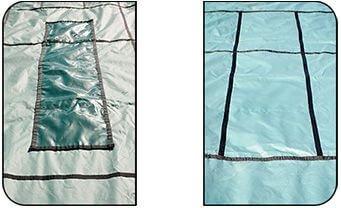 Cut-Out: Adding or capping a cut-out section.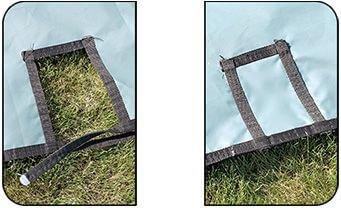 NON-REPAIRABLE ITEMS:
Anything that compromises the integrity of the cover meeting ASTM Standards is considered non-repairable. Covers must be able to hold at least 485 lbs. of weight without failing.
Examples of non-repairable items include:

Deteriorating material due to age, chemical damage, excessive weathering, excessive wear, etc.
Deteriorating webbing or thread.
Excessive perimeter coping damage. Excessive holes.

All non-repairable covers will be quoted for replacement.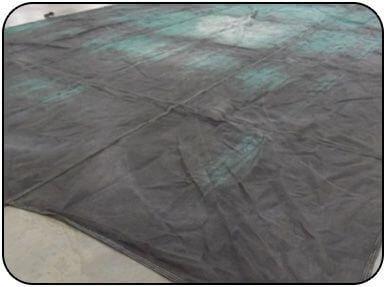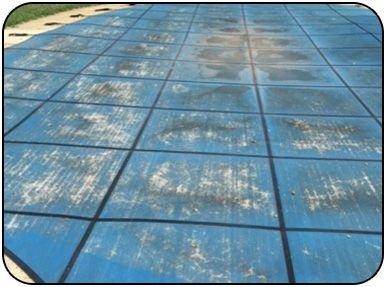 IF REPLACEMENT IS NECESSARY:
To ensure the most accurate fit, your original cover will be used as a template to create the manufacturing specifications for the new cover.

Note: Old covers can shrink or stretch over time. This will be taken into consideration when measuring your template to ensure the most accurate match; however, we cannot guarantee a 100% match on all straps. You may have to drill several new anchor locations (approximately 10% re-drill rate). For best results, please provide the overall length and width of your actual pool on the RA form.

In The Swim will provide a quote for the new cover.
Once we receive your approval on the quote, your new cover will be manufactured and shipped to you.
Your original template cover will be discarded at no charge once your new cover is manufactured and shipped. If you require your original cover to be returned to you, please request so on the "Safety Cover Repair & Replacement Program RA Form". A $30 charge will be applied for shipping your old cover back to you.
STEPS TO SENDING IN YOUR ORIGINAL COVER
REQUEST A RETURN AUTHORIZATION NUMBER AND SHIPPING BOX:
All covers require a "Return Authorization" number (RA). If you have multiple covers to return, each cover will need its own individual RA number, so make sure to fill out a separate form for each cover you are sending.
Make sure to include all information on the form, including the overall length/width and shape of your pool as well as your cover.
Simply fax or email the completed "Safety Cover Repair & Replacement Program RA Form" on the last page of this form or call ITS's Customer Service Team to request an RA number.
Within 24 hours of receiving your request, a return box, a pre-printed return label, an RA label, and an RA tag will be shipped to you at no charge.
RETURNING THE COVER IN THE BOX PROVIDED
1. Remove all springs from the deck anchors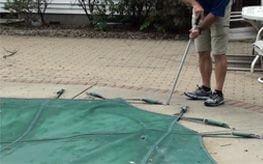 2. Carefully pull your cover off the pool and find a large open area to lay it flat.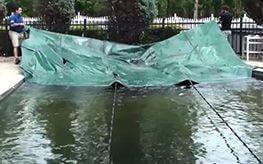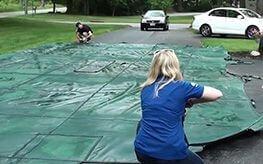 3. Remove all springs from your cover. *You must remove all hardware on your cover before packing it into the box and shipping it back. A $100.00 removal fee will be applied to any cover returned with hardware attached. DO NOT CUT THE STRAPS OFF.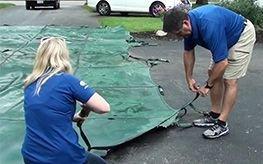 4. Spray cover clean of all debris and let air dry before packing the box. Once the cover is dry, use duct tape, or a white/yellow grease crayon to mark problem areas that need repair. DO NOT use chalk as it tends to rub off when the cover is folded.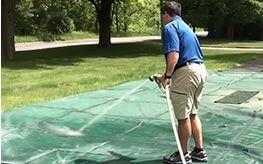 5. Starting at one end, fold the cover accordian style, then roll up like a sleeping bag so it fits in the box. Once it is all rolled up, put the cover in the box with the straps facing up.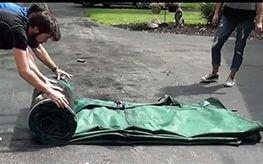 6. Locate the paperwork provded in the pouch on the front of your box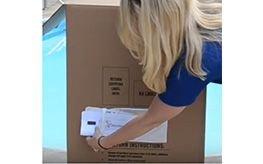 7. Use the provided zip tie to attach the yellow RETURN AUTHORIZATION (RA) tag to a strap on your cover.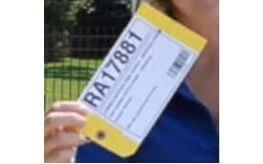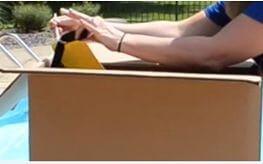 8. Affix the stick-on SHIPPING LABEL to the designated area on the shipping box. Make sure you KEEP a record for your tracking number.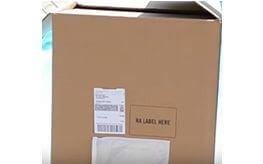 9. Affix the stick-on RETURN AUTHORIZATION (RA) LABEL to the designated area on the shipping box. Make sure you KEEP a record of your RA number.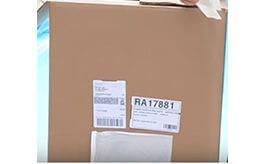 10. Securely tape and/or band the box for shipment. Note: Package will be heavy, please ensure the box is securely tapes and/pr banded so it does not open during shipment.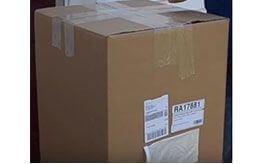 11. Move the box to a convenient pick up location for your FedEx driver.
12. Call FedEx at 1-800-463-3339 to schedule a PICK-UP. Just let them know your tracking number from the shipping label and where to find the box. You can also bring the box to your local FedEx location if you prefer. Freight will automatically be billed to In The Swim.
IMPORTANT: Do not return "bungee" type covers. We cannot match the strap locations or do repairs on "bungee" type covers. Bungee covers will requre A-B measurements and new anchors will need to be installed.
ADDITIONAL INFORMATION:
Any cover sent back that is not repaired or replaced will incur a $100.00 inspection fee.
Any product shipped to In The Swim collect or without an RA number will be refused and returned to shipper.