In The Swim - Ultra-Clear 4-in-1 Natural Clarifier 1 Quart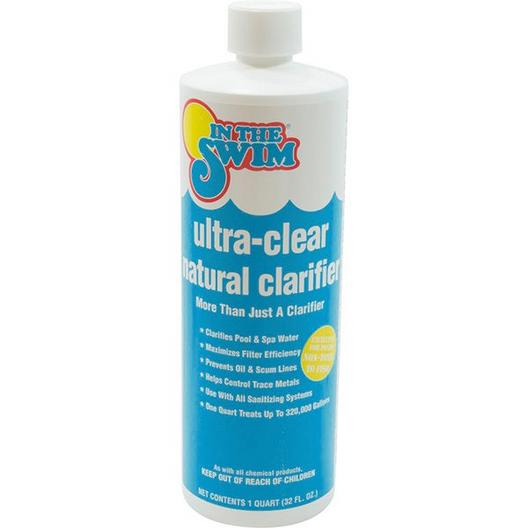 $17.99
Price reduced from

$19.99

to
Ultra-Clear 4-in-1 Natural Swimming Pool Water Clarifier 1 Quart
More Details
Membership Available
Ultra-Clear 4-in-1 Natural Swimming Pool Water Clarifier 1 Quart
PolyDADMAC, ammonium chloride
Weekly dosages
Add directly to your pools water
All natural, biodegradable formula
Safe for even ponds!
Use 1 ounce per every 10,000 gallons of water
1 Quart Bottle
In The Swim's Ultra 4-1 Clarifier collects algae and clears cloudy water in your pool and is eco friendly and safe enough for even natural ponds. Known as a PolyDADMAC, made from ammonium chloride,The 4-1 Ultra Clarifier uses highly positive charged density to attract negative charged colloidal particles of algae and other organic contaminants.
Clarifiers vs Flocculants Purpose
Having cloudy water is not uncommon when owning a pool. Though it's not recommended leaving the water in that state. Clarifiers like In The Swim's Ultra Clear 4-1 Clarifier are used in tandem with your filter to trap visible and non visible debris particles floating around in your water. When the particles are settled out they do not become heavy enough to sink to the bottom rather are drawn in towards your filter. Constant circulation is recommended during treatment
Flocculants on the other hand, like In The Swim's Super Floc Out, attract suspended particles to itself and clumps up all the contaminants by dropping them to the pool's floor. Your filter should be off during this process, after 8-12 hours a white blanket should be coated on the bottom of the water. Then slowly vacuum up the residue that is left behind.
Common Questions:
How long should you wait before swimming after adding to my pool?
When adding In the Swim's Ultra Clear 4-1 Clarifier it is safe to swim just after an hour