In The Swim - Ultimate Pool Start-Up Chemical Kit up to 35,000 Gallons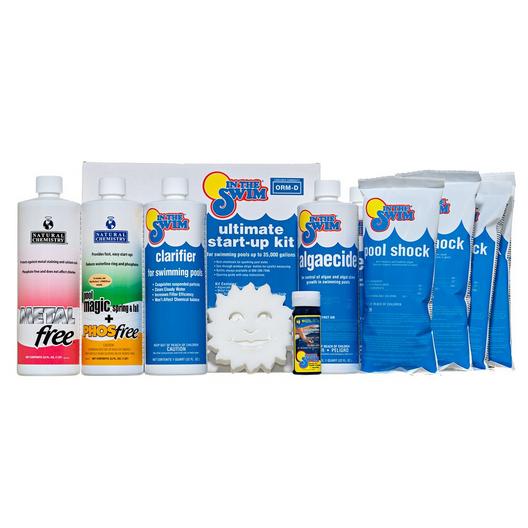 Start the swimming season right with the In The Swim Ultimate Start-Up Pool Opening Chemical Kit! Includes everything you need to open your pool up to 35,000 gallons. More Details
Membership Available
Standard Shipping
- Ship To Home.
Get it by
Thursday, Mar 30
---
Description
Start the swimming season right with the In The Swim Ultimate Start-Up Pool Opening Chemical Kit! Includes everything you need to open your pool up to 35,000 gallons.
Ultimate Start-Up Kit up to 35,000 Gallons Includes:
1 qt. Natural Chemistry METALfree
1 qt. Natural Chemistry Pool Magic + PHOSfree
1 qt. Clarifier for Swimming Pools
4 x 1 lb. Pool Shock Bags
1/2 gal. Algaecide
1 Sun Sorb Oil & Scum Absorber
1 10-count 4 Way Test Strips (Chlorine, pH, Alkalinity, Stabilizer)
Pool Opening Instructions
---
Details
The In The Swim Ultimate Start-Up Kit for swimming pools up to 35,000 gallons has all the best chemicals for sparkling pool water. With pre-measured formulas designed for use in pools of specific sizes, In The Swim start-up pool chemical kits help take all the guesswork out of preparing your pool for swimming. Opening your pool each season will be faster, easier, and more convenient than ever with In The Swim Start-Up Pool Opening Kits.
Prevent Metal Staining
Natural Chemistry METALfree is a non-phosphoric metal chelating agent that is highly effective at protecting against staining or water discoloration from trace metals such as iron and copper. It also helps protect against mineral or calcium scale build up and is compatible with all pool surfaces.
Fast & Easy Pool Start-Up
Natural Chemistry Pool Magic + PHOSfree provides quick and easy pool openings in the spring, reducing waterline ring and phosphates in the water. Pool Magic features a blend of enzymes to break down oils and other non-living organic contaminants for cleaner feeling water. It also contains PHOSfree which is great to use to reduce a moderate amount of phosphates to help prevent future algae blooms.
Clear Cloudy Water Fast
In The Swim Clarifier for swimming pools helps coagulate dirt and other suspended particles clearing cloudy pool water. Adding In The Swim Clarifier also increases your pool filter's efficiency. Fast acting and biodegradable, this water clarifier does not affect the chemical balance in the pool.
Powerful 68% Calcium Hypochlorite Granular Chlorine Shock
The Ultimate Start-Up Kit includes 4 one-pound bags of calcium hypochlorite chlorine pool shock that will kill bacteria and destroy organic contaminants in the water. This powerful pool shock is great to use for spring pool openings and ideal for a quick chlorine boost.
Algae Beware!
Algaecide for control of algae and algal slime growth in swimming pools is also included. This algaecide is non-metallic and does not cloud or stain the pool when added. It is very effective at preventing and treating many types of algae including green and yellow mustard algae.
Stop Grease, Grime & Waterline Scum
The Sun Sorb attracts and absorbs lotions and oils to improve water quality while reducing stress on your pool filter. It absorbs up to 40 times its weight in residual suntan oils, body oils, grime, and scum. Sun Sorb works with your In The Swim chemicals to provide you a cleaner, more enjoyable pool.
Quick & Reliable Water Testing
In The Swim Start-Up Kits include a bottle of 10-count 4-Way Test Strips for an easy way to check your pool water chemistry levels. Each strip tests for Chlorine, pH, Total Alkalinity, and Stabilizer or Cyanuric Acid (CYA).
The In The Swim Ultimate Start-Up pool chemical kit includes all the chemicals you need for a proper spring start-up and will make your pool opening hassle-free.
---
Specs
| | |
| --- | --- |
| Product Type: | Pool Chemical |
| Chemical Type: | Kit |
| Kit Type: | Opening Kit |
| Pool Size: | Up to 35,000 Gallons |
| Product Dimensions: | 8.5" Width x 12.6" Length x 11.4" Height |
| Product Weight: | 16.58 lbs. |
---