Intermatic - 40 Amp Control Panel with 220V Timer and 100W Transformer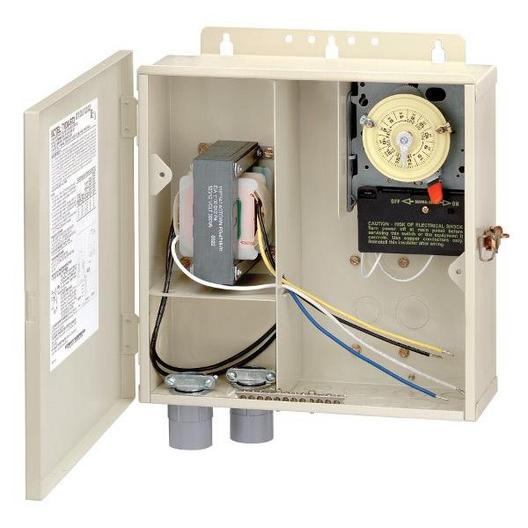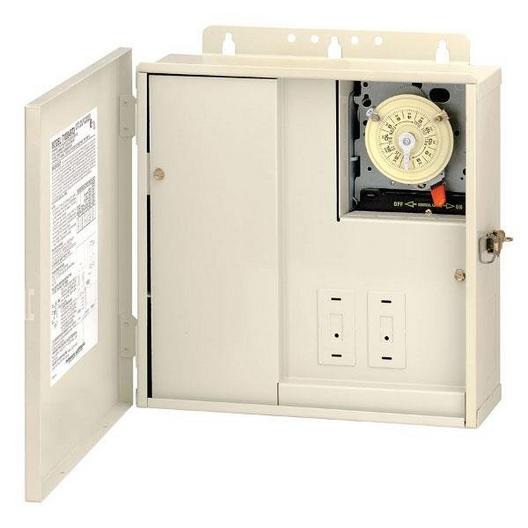 Intermatic 40 Amp Control Panel with 220V Timer and 100W Transformer - T10004RT1
More Details
Membership Available
Intermatic 40 Amp Control Panel with 220V Timer and 100W Transformer - T10004RT1
Case: 12 (30.5 cm) H x 12 (30.5 cm) W x 4-1/4 (10.8 cm) D, 0.048 steel with electros; tactically applied light beige finish.
Knockouts: Five combination 1/2" - 3/4" and two combination 3/4-1 knockouts on the bottom. One combination 1/2" - 3/4" on the left side and one combination 3/4-1 on the back. One knockout 1-3/4 x 2-3/4 on the right side for mounting switches or GFCI.
Center Rating: 92 Amp per leg, 168 Amp Max. 120-240 VAC or 120-208 VAC single phase - 60 Hz.
These Panels with Transformer offer an all-in-one, easy to wire and extremely cost effective electrical control center for any pool or spa installation. Inside the enclosure are the time switch, the transformer and other components needed for the completion of this installation. The T40000RT Series panels will accept additional Intermatic mechanisms and/or components. The PE45343RCT Series includes all the features of the PE Series Digital Controls plus two PE24VA valve actuators, Wireless Panel Mounted Transceiver (PE950), which allows the system to display the status of each of the five circuits (3 timed and 2 on demand), pool and spa water temperature, pool and spa thermostat set point, heating status and overall communication status.
| | |
| --- | --- |
| Control System Type: | Control System |
| Voltage: | 240V |
| Product Type: | Automatic Control |
| Manufacturer: | Intermatic |
| Warranty: | 1-Year |
| Product Type: | Pool Part |
One (1) Year Limited Warranty on Product, see Owner's Manual for a full description of warranty claims and coverage details.