LayorCare - Wet Look Seal 1 Gallon Bottle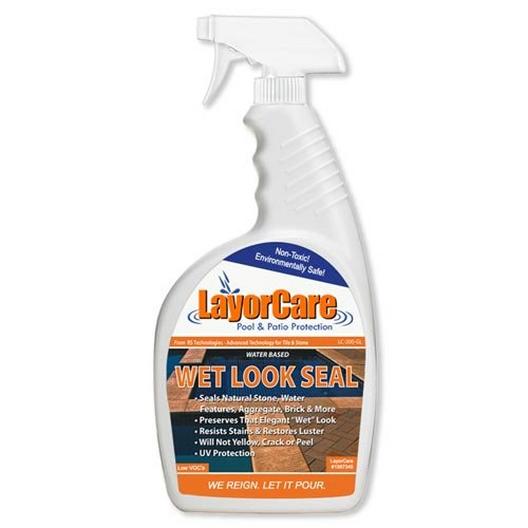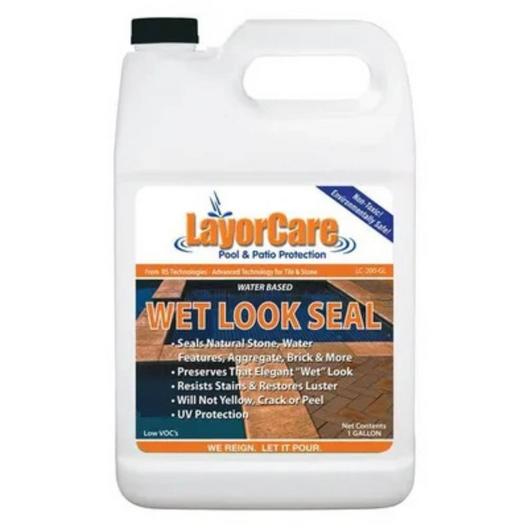 Membership Available
LayorCare Wet Look Seal 1 Gallon
Safe for Travertine Pavers, natural stone, water features, aggregate, brick, and more!
Resists stains and restores luster.
Recommended: Always use full strength. Do Not Dilute.
Surface safe to walk on after 3 hours.
1 Gallon covers 400 sq feet per single coat.
Lasts up to 5 years!
Easy to Apply with a brush.
Wet look elegant finish!
This water based formula seals natural stone, water features, aggregate, brick and more! LayorCare Wet Look Seal resists stains and restores luster of your stone surfaces. A single coat covers approximately 400 sq ft per gallon and resists fading caused by UV rays.
For the ultimate in pool and patio protection for luxury stone and deck tile surfaces around your pool, Wet Look Seal seals and protects while restoring shine and luster!
LayorCare Wet Look Seal is a water based sealer that provides an elegant 'wet look' to your natural stone, rock walls and water features, aggregate decks, brick and other natural surfaces. Easy to apply, non-toxic, low VOC surface treatment adds color and luster to travertine decks, while sealing them against weather, chlorine and salt water. Brings out a richer, deeper color to natural stone, as it looks when wet, but with low-gloss and low reflectivity.
Wet Look Seal by LayorCare is easily applied to improve the appearance of Travertine, Flagstone, Sandstone, Bluestone, Limestone, Granite, Slate and Marble. Restores original luster and color to Stampcrete and aggregate deck finishes or pebble pool decks, and looks great when applied to brick or paver decks and walls.
Wet Look Seal applies easily with brush, roller or airless sprayer
Hides light scale build-up. For heavy deposits, first treat with LayorCare HCR
Protects luxury pool deck and wall materials from salt water corrosion
Seals natural stone, concrete and pavers to protect from sun and weather
Two coats recommended - lasts for five years when properly applied
Sheds water, dirt and salt - keeps stone decks, coping and walls looking new
Highest quality Travertine stone sealer and Flagstone sealer available
| | |
| --- | --- |
| Product Type: | Pool Chemical |
| Container Size: | 1 Gal |
| Manufacturer: | LayorCare |
| Chemical Type: | Surface Cleaner |