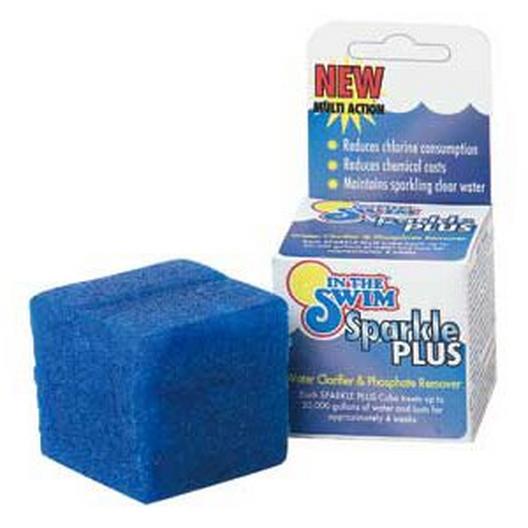 1 Cube Sparkle Plus Gel Clarifier More Details
Membership Available
Price reduced from

$27.99

to
$25.19
Standard Shipping
- Ship To Home.
Description
1 Cube Sparkle Plus Gel Clarifier
---
Details
SLOW-DISSOLVING CUBE CLEARS CLOUDY POOL WATER AND AIDS IN THE REMOVAL OF PHOSPHATES!
Sparkle Plus is an extremely effective, yet affordable, pool water clarifier. By grouping fine debris and algae together, pool water clarifiers help your pool's filter to remove these unwanted contaminants. Sparkle Plus water clarifier for swimming pools improves filtration for up to 4 weeks so that you can maintain pristine swimming water. Sparkle Plus pool water clarifier can be used in most swimming pools to ensure optimal water quality.
Just place this cube in your pool skimmer basket to help clear cloudy water.
Helps remove phosphates (algae's main food source) from the water to prevent algae blooms.
The cube completely dissolves, removing suspended particles from the water and depositing them into your sand filter bed.
Even when totally dissolved, the active ingredients continue to work for up to 4 weeks!
Helps reduce pool chemical costs while maintaining sparkling clear water.
Each Sparkle Plus cube treats up to 30,000 gallons of pool water.
Helps remove trace metals.
Quit struggling with cloudy pool water. Get a fantastic swimming pool environment from Sparkle Plus. Designed to clear cloudy pool water and aid in the removal of phosphates.
Sparkle Plus slow dissolving pool water clarifier helps to create the perfect swimming environment. One 6 oz. Sparkle Plus cube removes phosphates from your pool water to prevent algae growth and keep your pool water fresh and clean. Swimming pool water clarifier should be used whenever your pool water is cloudy or dull. Often caused by fine debris or algae growths, cloudy water is unappealing to swimmers, which is why an effective pool water clarifier is important.
---