Dolphin - Proteus DX4 Robotic Pool Cleaner with PowerStream Technology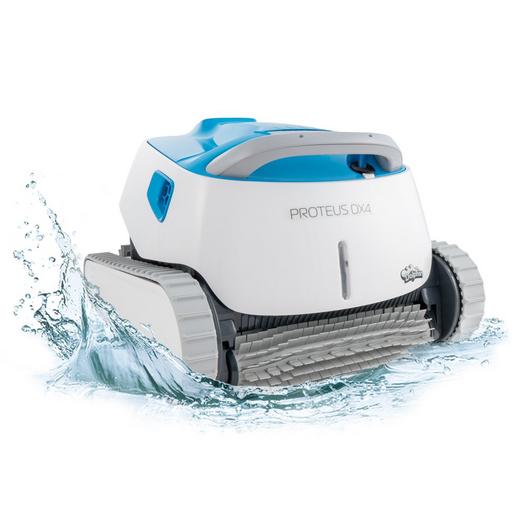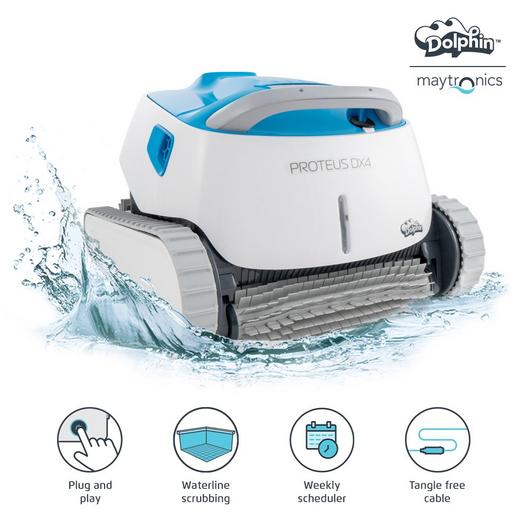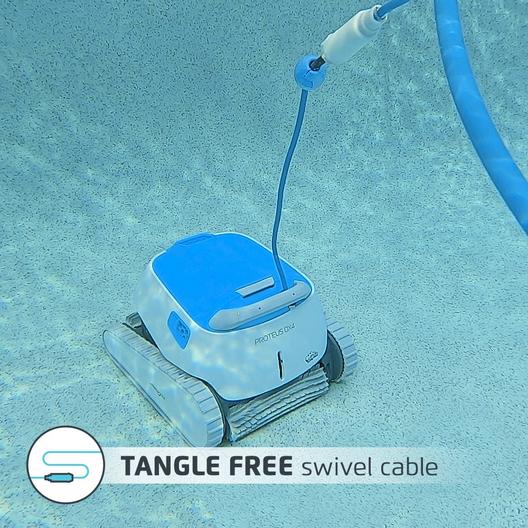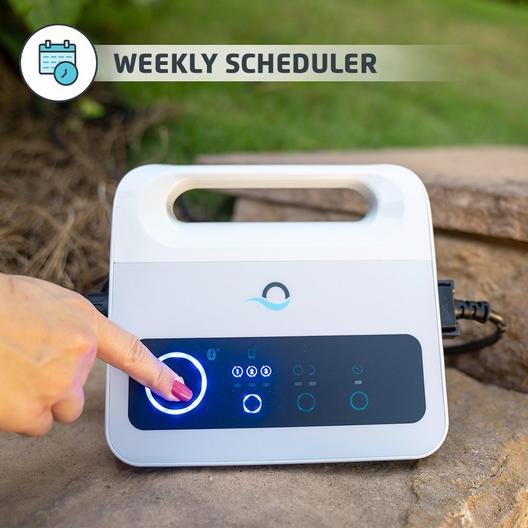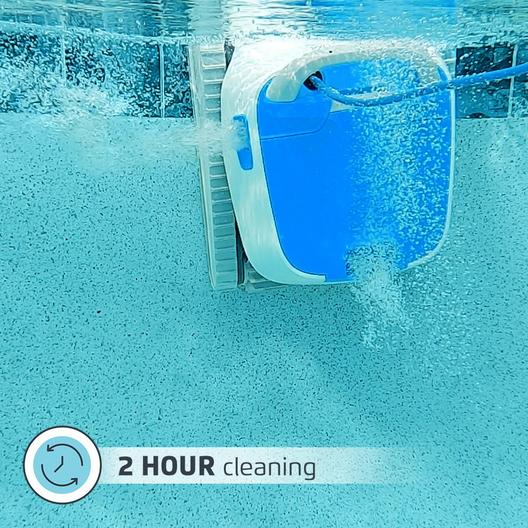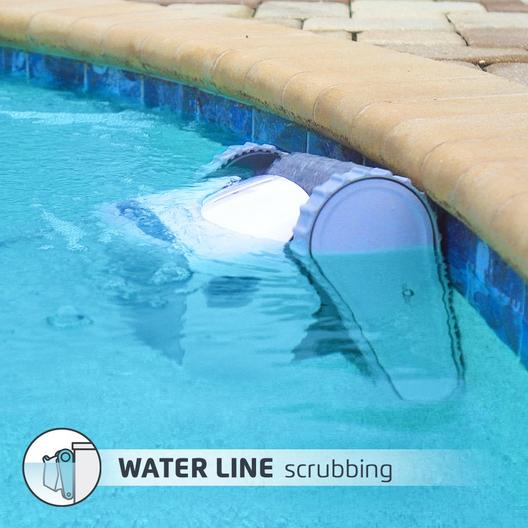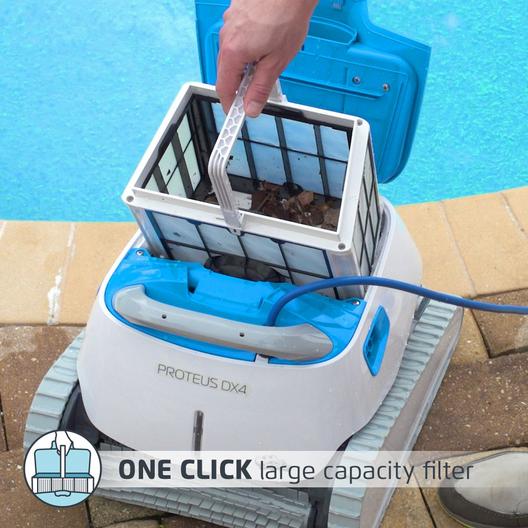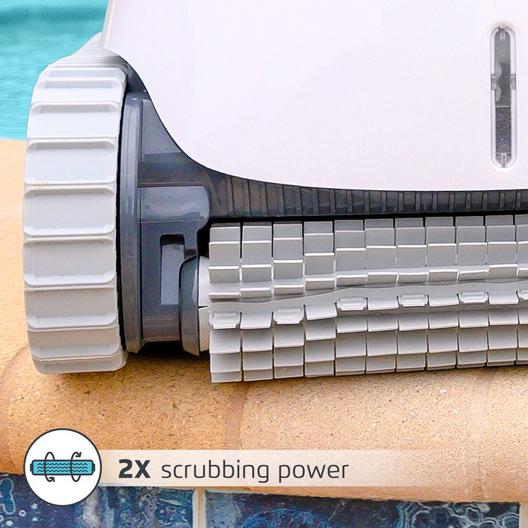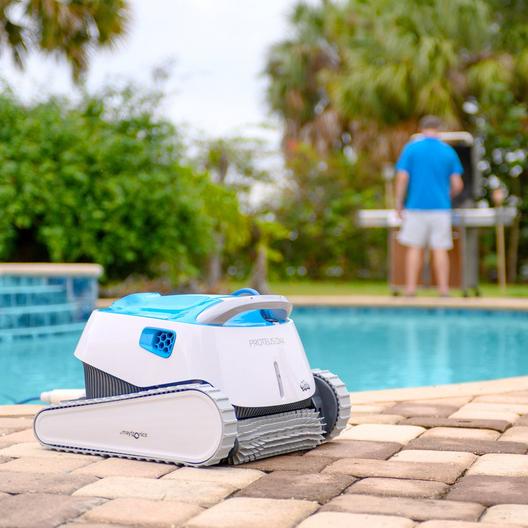 The Dolphin Proteus DX4 takes the manual work out of pool cleaning, scrubbing the pool floors, walls, and waterline filtering out dirt and debris. More Details
Membership Available
Standard Shipping
- Ship To Home.
---
Description
The Dolphin Proteus DX4 takes the manual work out of pool cleaning, scrubbing the pool floors, walls, and waterline filtering out dirt and debris.
For in-ground pools up to 50'
60ft Swivel Cable prevents tangles and knots
Cleans pool floor, walls, and waterline
Precision Scanning Software for optimal cleaning route
PowerStream Technology enables multi-directional water flow for a steady grip on walls and waterline
Active brushing scrubs away dirt and debris from all pool surfaces
Custom cleaning schedule
Complete Clean in 2 hours
Top-load basket filters out leaves, dirt, and debris
Top-load filter access for super-easy cleaning
Blue LED indicator light
Automation mode for hands-free cleaning
---
Details
The Maytronics Dolphin Proteus DX4 is an efficient and ultra-light weight robotic pool cleaner that provides deep cleaning results. The Dolphin Proteus DX4 will scan your pool for the most efficient route, ensuring no spots will be missed. Dolphin Proteus robotic pool cleaners are super-efficient, helping reduce water, chemical, and energy usage with every pool cleaning. The Dolphin Proteus DX4 includes a 60-foot swivel cable, top loading filtration system basket, multi-function power supply control, and a two-year limited warranty from the manufacturer.
Features of the Dolphin Proteus DX4
The Dolphin Proteus DX4 comes equipped with a top loading integrated filtration basket, to remove dirt and debris from the pool water with easy access for super-simple cleaning. With the Proteus DX4 robotic pool cleaner being completely independent from your existing filtration system, it saves your equipment extra wear and tear as the circulation pump does not need to run while the Dolphin Proteus DX4 cleans the pool. The Proteus DX4 scans your pool for the best route to take, making sure every corner and surface is thoroughly cleaned. Its lightweight design makes for easy clean up and removal from the pool when the Proteus DX4's cleaning cycle is complete.
PowerStream Technology
The Dolphin Proteus DX4 utilizes PowerStream Technology which allows it to create a multi-directional water flow, providing better grip on vertical surfaces, breaking up grime for a more effective clean. PowerStream Mobility makes the Dolphin Proteus DX4 super-efficient for optimal waterline scrubbing. The multi-function power supply control integrates cycle cleaning, weekly timer, and mode selection - all with simple, intuitive touch panel controls.
Add some peace of mind and take the hassle out of carrying your robotic pool cleaner from storage to the pool with a Dolphin Pool Cleaner Caddy (Dolphin 9996084-ASSY Cleaner Caddy) sold separately.
The Dolphin Proteus DX4 Robotic Pool Cleaner is an effortlessly smart robot that delivers a reliable and deep cleaning experience, all with just the touch of a button.
Common Questions:
What pool surfaces does this cleaner work on?
This robotic cleaner works on all surfaces such as concrete, plaster, vinyl, and fiberglass.
What voltage is used for the Power Supply Control?
The Power Supply Control requires 120V so you can plug it into a standard 120V GFCI power outlet.
Why are not all the functions working on the Power Supply Control?
The Dolphin Proteus line of cleaners all use the same Power Supply Control. Depending on what model cleaner you have, will determine what functions are accessible with that particular model.
How does the Dolphin Proteus DX4 scan and move around the pool?
Thanks to its unique intelligent scanning system, the Dolphin Proteus DX4 studies the different parameters of your pool and thus optimizes its capacity to scan the entire pool.
Helpful Hints and Maintenance Tips for the Dolphin Proteus DX4:
Position the Power Supply Control so that it is approximately in the middle of the long side of the pool at a distance of a minimum of 12' from the pool and placed 4'' above ground. When the Dolphin Proteus DX4 Robotic Pool Cleaner is cleaning, have the Power Supply Control in the shade preferably not in the direct sun.
Please Note: Extension cords or cables cannot be used under any circumstance.
To help avoid tangles and kinks in the floating cable, use approximately enough cable length in the water for the Proteus DX4 to reach the farthest corner of the pool.
After each cleaning cycle, remove the Dolphin Proteus DX4 out of the pool to reduce wear and tear on the cleaner.
After each cleaning cycle, clean and rinse the filter basket to help ensure optimal cleaning efficiency and performance.
Weekly, unplug the cable from the Power Supply Control, untangle if necessary, straighten out, and leave in the sun for several hours.
Store the Dolphin Proteus DX4 Robotic Pool Cleaner in a safe and shaded area. Preferably placed in its cleaner caddy, available separately, or place the cleaner upside down.
---
Highlights

The patent-pending PowerStream Mobility System creates a multi-directional water flow to enable a constant grip on vertical surfaces.

Save energy, while controlling your Dolphin robotic pool cleaner. The energy saver supply integrates cycle cleaning and mode selection, start delay - all with simple touch screen controls.

Set it and forget it! The anti-tangling patented swivel cable will allow your robotic pool cleaner to to move easily around the pool, making pool maintenance a breeze.

Proteus DX4 creates an exceptionally clean pool by using a fine filter to remove dirt, debris and algae from the water. The filter quickly snaps apart for easy cleaning.
---
Specs
| | |
| --- | --- |
| Product Type: | Pool Cleaner |
| Manufacturer: | Dolphin |
| Cleaning Area: | Floor, Walls, and Waterline |
| Cleaning Cycle: | 2 hours |
| Cord/Hose Length: | 60 ft |
| Installation Type: | Residential |
| Pool Cleaner Type: | Robotic |
| Pool Size: | Up to 50' |
| Pool Surface: | All Surfaces |
| Warranty: | 2-Year |
| Pool Type: | In Ground |
| GPH: | 3735 GPH |
| Product Dimensions: | 18" Width x 22" Length x 22" Height |
| Product Weight: | 29 lbs. |
---
---
Warranty
Two (2) Year Limited Warranty on Product, see Owner's Manual for a full description of warranty claims and coverage details.