Premium 12 Mil Blue Solar Blanket 16x32 ft Rectangle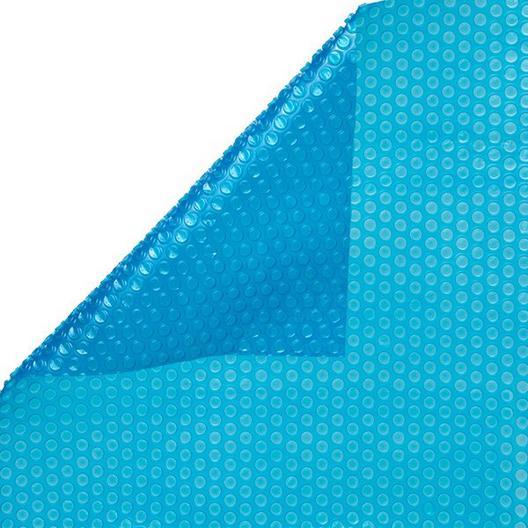 Warm Your Pool the Right Way with the 12 Mil Pool Solar Cover 16x32 Rectangle More Details
Standard Shipping
- Ship To Home
Description
Warm Your Pool the Right Way with the 12 Mil Pool Solar Cover 16x32 Rectangle
To enhance the durability of your solar cover:
Put away your solar blanket (covered or in a shady location) when shocking the pool
Place cover on the pool only when chlorine level is below 2.5 ppm
Place cover on the pool only when pH level is above 7.2
Remove sticks and leaves gently and clean the blanket if dirty
When storing a solar blanket on a reel, use the Poly Tarp or the Solar Blanket Cover
When storing a solar blanket folded, place in a shady area or inside
---
Details
There's no need for big, expensive pool heaters when a 12 mil pool solar cover can raise your pool's water temperature by up to 15 degrees(F) using nothing but the sun. Created of tiny air pockets, the blue pool cover captures energy from the sun's rays and transfers the energy as heat to your pool water. The 12 mil thickness works to retain the heat for comfortable swimming during the day, evening and even night.
Pool heating covers are a highly efficient, effective and environmentally method of heating up your pool. The 12 mil pool solar cover also works to slow down water evaporation from your pool, which keeps your pool level optimal and stable while limiting pool chemical loss. The positive side effects help you save money on water and pool supplies and time with pool maintenance. The blue solar cover is constructed of UV stabilized resin vinyl to resist fading from the sun as well as pool chemicals.
12 mil pool solar cover 16x32 rectangle can be cut with scissors to fit irregular-shaped and odd-sized pools
Blue pool cover raises your pool temperature by up to 15 degrees(F)
Reinforced seams are flat for enhanced wind and wear resistance
Pool heating covers are environmentally friendly and economical to use
Saves time on pool maintenance and money on pool chemicals by limiting evaporation and chemical loss
---