In The Swim - pH Increaser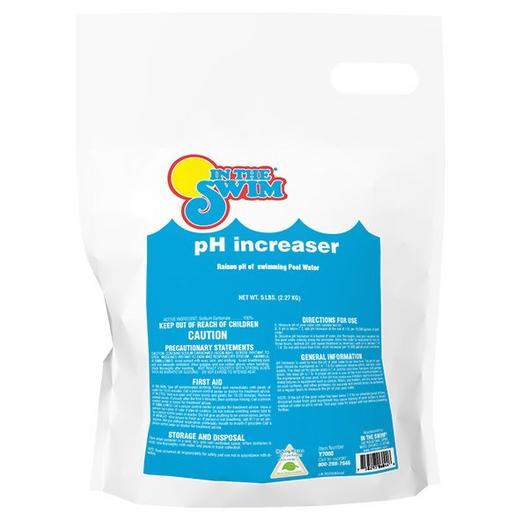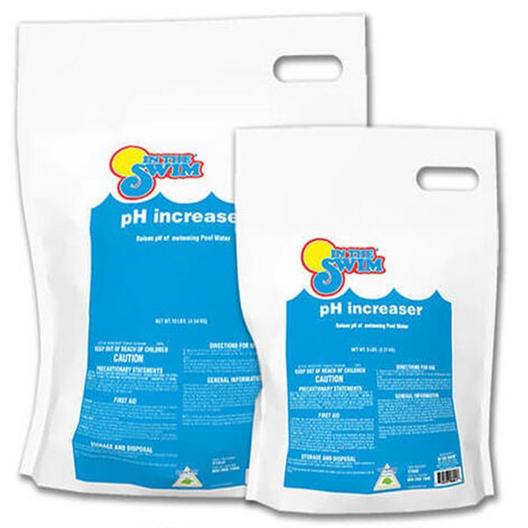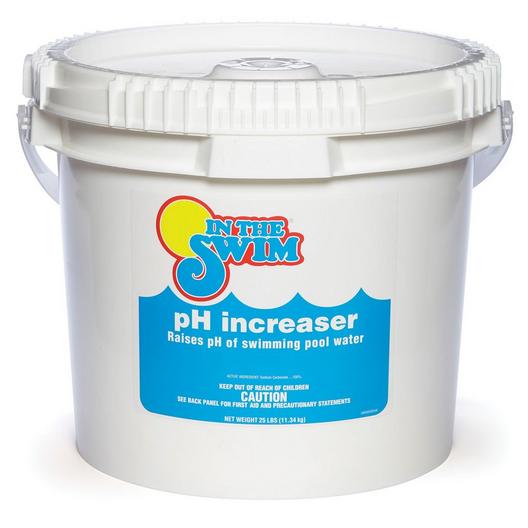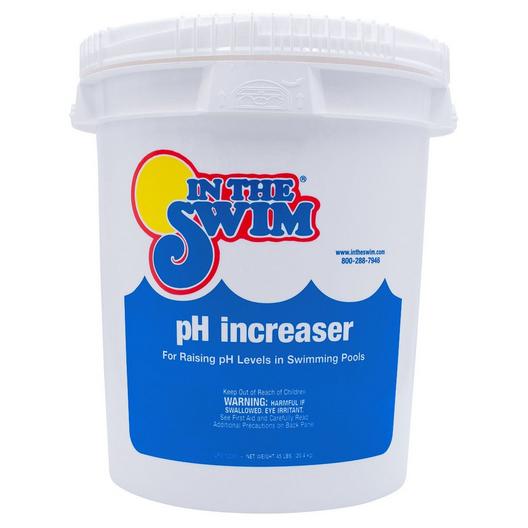 In The Swim pH Increaser is a Soda Ash that raises pH levels quickly and easily to reduce any acidity and fix water conditions. More Details
Membership Available
Standard Shipping
- Ship To Home.
---
Description
In The Swim pH Increaser is a Soda Ash that raises pH levels quickly and easily to reduce any acidity and fix water conditions.
The active ingredient in our pH increaser is soda ash, aka sodium carbonate.
Corrects acidic water conditions, by raising water pH levels
Slows the rapid dissipation of chlorine caused by acidic water.
Reduces eye and skin irritation by reducing water acidity.
Reduces corrosion of pool equipment and etching of plaster pool walls
and vinyl liners.
Our pool pH increaser comes in an easy to use granular form.
Add pool pH increaser at a rate of 1 pound per 10,000 gallons, to raise pH level by 0.52.
Retest water after every dosage added, You can swim after 4 hours of circulation
---
Details
In The Swim's pH Increaser will help you raise your Total Alkalinity and pH levels with half the hassle. Made of sodium carbonate, or soda ash, in granular form, makes for easy addition of application to your pool's water. When pH gets low, your pool water becomes acidic causing irritation to swimmers and damages the pool and its equipment. Granular pH increaser can help by stabilizing the pool pH and ensuring that your pool is safe for its occupants. More importantly, maintaining a balanced pH by effectively administering In the Swim's Ph Increaser also ensures that your pool water is refreshing and enjoyable on even the hottest summer day.
Managing Your pH Level
The pH level of your pool water is a vital element of your pool's overall water chemistry. PH measures how acidic or basic the water is on a scale of zero to 14, with the ideal pH for swimming pools falling in the range of 7.2 to 7.6. When the pH level of your pool falls below 7.2, the water becomes acidic and can cause eye irritation, corrosion of metal pool equipment, dissipation of chlorine, etching of plaster walls and unsightly stains.
To prevent low pH problems from occurring, keep an eye on the pH level of your pool and, whenever it drops below 7.2, simply add a pH increaser to raise the pH level into the 7.4-7.6 range. Your chlorine will be more stable, and other water balance parameters will too. It's best to use In The Swim's pH Increaser when you notice levels to start to drop and to prevent the harm of an acidic pool.
Raising Total Alkalinity
Depending on the size of your pool you will need to carefully measure your pH increaser in order to accurately and effectively increase your pool pH and alkalinity levels. Total Alkalinity measures all the hydroxides, carbonates and alkaline that is in your pool's water. Your Total Alkalinity or (TA) levels should be 80-120 ppm. Total Alkalinity strongly influences your pH level, so if your pH is off, be sure to check the alkalinity. Total Alkalinity strongly influences your pH levels, so if you notice the pH is off, be sure to check the alkalinity.
Common Questions:
What does pH Increaser affect?
In The Swim's pH Increaser raises your pH and Total Alkalinity levels in your water
How much should I add to my pool?
1 lbs of In The Swim's pH Increaser per 10,000 gallons to raise pH levels by 0.52
---
Specs
| | |
| --- | --- |
| Product Type: | Pool Chemical |
| Chemical Type: | pH Increaser |
| Manufacturer: | In The Swim |
| Active Ingredient: | Soda Ash |
---