Confer Plastics - Debris Skinner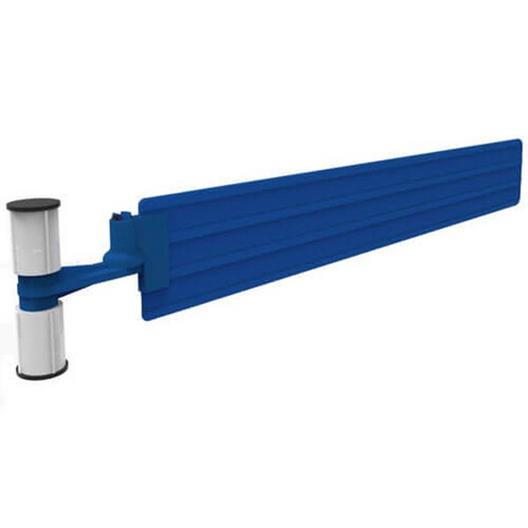 Cut Pool Cleaning Time by 75% More Details
Standard Shipping
- Ship To Home
---
Description
Cut Pool Cleaning Time by 75%
The Debris Skinner catches more debris than your skimmer alone
Easy to install and durable
Durable ABS plastic
No metal parts to corrode, rust or replace
Reduce time spent hand skimming by 75%
No tools needed for installation
Works with most skimmer systems on above-ground and in-ground pools
Measures 28 in. by 4 in.
Installation requirements: pool skimmer must have space between weir door and face plate -- not compatible for systems where face plate and weir door are flush

Q: What is the Debris Cleaner made out of?
- The Debris Cleaner is made out of thick ABS Plastic.

Q: Can I get the Debris Skinner in other colors?
- No, the Debris Cleaner only comes in blue.

Q: What tools do I need to install the Debris Skinner?
- None, the Debris Skinner installs into the skimmer with out tools all you have to do is turn the anchor until the vertical tabs press tightly into your skimmer.
---
Details
One of our best-selling products, the Debris Skinner drastically cuts down on pool cleaning time by directing debris into your pool's skimmer. This revolutionary product simply connects to the skimmer between the weir door and the face plate and guides large and small debris into the skimmer, effectively increasing the skimmers pull further out into the pool. Built to last, the Debris Skinner is made of durable and chemical-resistant ABS plastic and is compatible with most pool skimmers.
The Debris Skinner catches more debris than your skimmer alone
Easy to install and durable
Durable ABS plastic
No metal parts to corrode, rust or replace
Reduce time spent hand skimming by 75%
No tools needed for installation
Works with most skimmer systems on above-ground and in-ground pools
Measures 27.5 in. by 4 in.
Installation requirements: pool skimmer must have space between weir door and face plate -- not compatible for systems where face plate and weir door are flush