Chemtrol 250 Digital Pool Chemistry Controller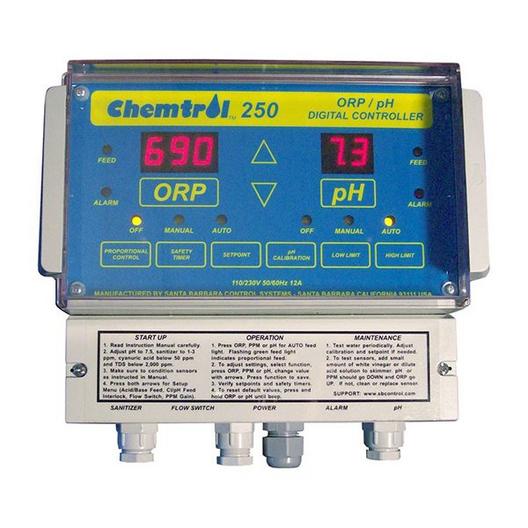 ---
Details
CHEMTROLTM LIQUID CHEMICAL FEED SYSTEM FOR SANITIZER & pH
We've combined the ChemtrolTM 250 with dual state-of-the-art 52 GPD feed pumps and dual 15 gallon storage drums to create the most highly advanced liquid chemical feed system available! The ChemtrolTM 250 digital controller is ideal for hotels, motels, clubs, and condos and offers programmable features that make maintaining safe, clean water for your facility simple, easy, and economical.
ChemtrolTM is easy to install with simple-to-use programmable features that include continuous monitoring of pH, ORP, with adjustable set points, alarms, proportional feed, and overfeed safety timers. Controller includes platinum electrode ORP sensor w/10-ft cable, glass electrode pH sensor w/10-ft. cable, and tees for 1 1/2" or 2" line. LED's for feed mode, feed status, alarms. 110V/230V. NSF Approved.
The ChemtrolTM 250 controller only and replacement sensors for ORP and pH are also available. 5-Year Warranty on electronic module, 1-Year on all other parts. 1-Year on feed pumps.