Leslie's - Cellulose Fiber Bag for D.E. Filters, 3 lbs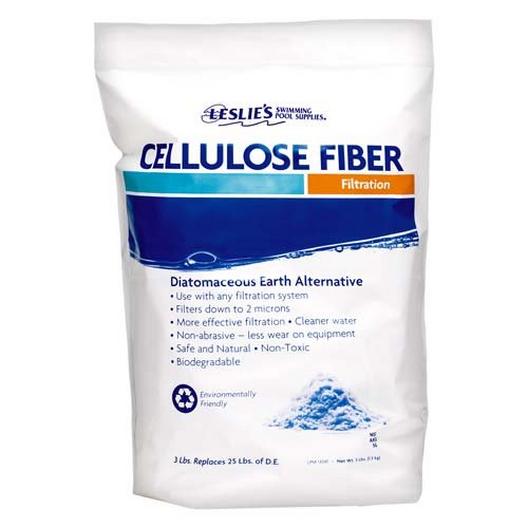 Leslie's Cellulose Fiber is a blend of natural cellulose fibers that replaces diatomaceous earth in pool and spa filters. More Details
Membership Available
Standard Shipping
- Ship To Home.
---
Description
Leslie's Cellulose Fiber is a blend of natural cellulose fibers that replaces diatomaceous earth in pool and spa filters.
Cellulose fiber
Replaces D.E. or diatomaceous earth
Works with pool and spa filters
Use in addition to cartridge and sand filters to improve water clarity
Non-toxic
---
Details
In D.E. filters, Cellulose Fiber replaces the D.E. and safely cleans pool water. In cartridge and sand filters, Cellulose Fiber works as a filter aid and improves water clarity.
Usage Tips Tip 1: Shortened Cycling* with New Installations: Leslie's Cellulose Fiber filters smaller particles than D.E., causing the filter pressure to rise more quickly than usual for one or two cycles. During these cycles your filter is cleaning the small particles missed by D.E.After the initial one or two cycles your filter's cycle time will be increased versus D.E. * Backwashing + recharging= cycle
Tip 2: Chemical Compatibility: Leslie's Cellulose Fiber is incompatible with Pool Perfect plus Phosfree.
Tip 3: Oil Contamination Oils from high-bather loads may cause Leslie's Cellulose Fiber to initially load up quicker. This is because D.E. does not filter all oils. In most residential pools and spas, this will not occur due to lower-bather loads.
Tip 4: Short Cycling of Filter Initial short cycling of the filter is only a sign that Leslie's Cellulose Fiber is collecting impurities from the water that were not captured by the previous filter media.If short cycling persists, the water chemistry should be checked.
Tip 5: Environmentally SafeLeslie's Cellulose Fiber is all-natural cellulose fiber (wood pulp).Leslie's Cellulose Fiber is non-toxic and biodegradable. Tip 6: Cartridge and Sand Filters Leslie's Cellulose Fiber will also maximize your cartridge and sand filters' filtration rates. (Not necessary if already using ZeoSand in filter.) Filter pressure may increase or cycle more quickly than usual due to Leslie's Cellulose Fiber's increased rate of filtration.Follow manufacturers' instructions for cleaning and backwashing filters.
---
Specs
| | |
| --- | --- |
| Chemical Type: | Filter Aid |
| Manufacturer: | Leslie's |
| Product Type: | DE Pool Filter Media |