AquaJogger Water Fitness Belts and Kit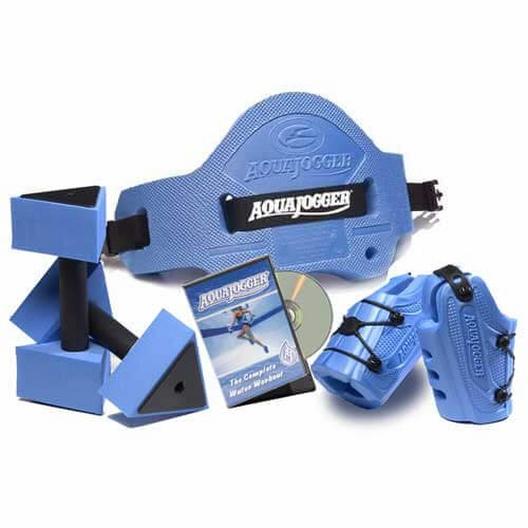 Get A Workout Without Stressing Your Joints More Details
Subscription Available
Standard Shipping
- Ship To Home
Description
Get A Workout Without Stressing Your Joints
---
Details
Get a Workout without Stressing Your Joints
Increase your fitness level with the AquaJogger Water Fitness System that lets you get a full workout without impacting your joints. Available in a full kit or in individual parts, this water fitness system has a comfortable, form-fitting belt that holds your head above the water while suspending the rest of your body under the surface for a better workout. The Delta Bells and Aqua Runners add weight and resistance to your arms and legs, and the water workout video gives you ideas and pointers on how to make the most of your time exercising in the pool.
Enjoy an aquatic full-body workout with the AquaJogger Water Fitness Start-Up Kit
AquaJogger components available as a kit or as separate pieces to better fit your workout needs
Strengthen muscles, improve tone, burn fat and increase cardiovascular health with this water workout system
AquaJogger belts are adjustable to be one-size-fits all and available in blue and purple
System appropriate for all ages and fitness levels
DeltaBells provide strength training for upper body and additional flotation support
AquaRunners slip on and adjust with Velcro straps
AquaJogger belt tones abdominal muscles by requiring muscle use to stay upright in water
Belt made of chemical-resistant, quick-drying, closed-celled foam
---
Literature Pack Information
The Best Workout On Earth Doesn't Take Place On Earth!

Everybody into the pool! The latest body of evidence says low impact conditioning in water is the wave of the future in fitness. And no wonder. Just look at the benefits you get -- without the bone-jarring effects of dry land:

AEROBIC CONDITIONING Water provides a complete cardiovascular workout, building endurance and burning fat as effectively as land-based programs.

STRENGTHENING Water's natural resistance works in all directions, letting you build all sides of a muscle group at once.

FLEXIBILITY While supporting 90% of your weight, water tones and strengthens your back and abdominal muscles as you maintain a vertical posture.

FUN Water's an instant stress-reducer. Deeply relaxing and invigorating, workouts feel more like a spa than a gym.

Aqua Jogger offers top-quality aquatic equipment, designed to suit everybody perfectly.

Why AquaJogger is first in the water.
AquaJogger plunged into low impact fitness in 1987, with the first affordable premium-quality buoyancy belt. Today, we're the #1 choice of fitness enthusiasts, athletes and medical professionals everywhere. And we continue to develop the finest patented water exercise equipment you can find.


PRODUCTS OFFERED
---

DeltaBells
Upper body strength training and floatation support
Triangular design offers adjustable resistance
Premium EVA foam with soft padded grip
Sold in pairs
Includes workout guide
---

AquaRunners
Resistance footwear
Increases drag to tone muscles
Comfortable slip-on design with adjustable Velcro strap
Soft durable EVA foam
Available for men or women
Includes workout guide


---


Buoyancy Belt

Patented contour design supports and strengthens the lower back
Custom-woven elastic belt comfortably moves with every breath and adjusts to fit various waist sizes
Tones the abdominal muscles without doing a single sit-up due to the continual use of the abdominal muscles to maintain erect body alignment in the water
The belt suspends the body vertically in the water at shoulder level for an effective lower body workout, plus hair stays dry and eyeglasses can be worn
Resilient closed-cell foam won't absorb water, dries quickly and resists chlorine damage
Easy to operate, quick-release buckle ensures a hassle-free fit
Soft flexible foam narrows at the waist for comfort and freedom of movement.