56Y Square Flange Inground Pool Pump Motors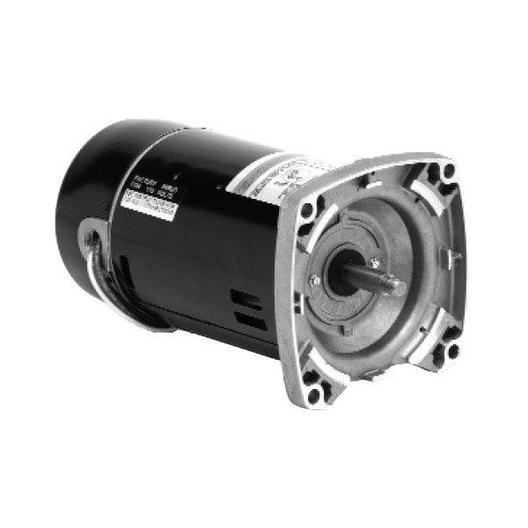 56Y Frame Square Flange Motors are 1/2" wider (body diameter) than 48Y Frame but have Identical hole spacings on the Square Flange. They are inter-changeable. More Details
Standard Shipping
- Ship To Home
Description
56Y Frame Square Flange Motors are 1/2" wider (body diameter) than 48Y Frame but have Identical hole spacings on the Square Flange. They are inter-changeable.
---
Details
The Square Flange or Face, has 4 - Non Threaded bolt holes at 1, 5, 7 and 11 O'Clock to mate up with the seal plate. Motor Shaft is threaded on the end. No attached Base. 48Y frame motors ship with a rubber spacer for use when replacing a (thicker) 56Y frame motor.
Our 56Y motors marked with AS below have Aqua Shield, for advanced moisture protection and optimized internal airflow.
The motors on this page fit a wide variety of pool pumps including, Anthony, American Products (Pentair), Jandy, and Pac-Fab, Purex and Sta-Rite (Pentair).
48Y/56Y motors fit popular pumps like the Challenger, Whisperflo, UltraFlow, Superflo, DynaGlas, MaxeGlas, DuraGlas, Jandy HP, Waterway SVL56 and Anthony pumps.
Tip: Always replace your shaft seal when replacing a pump motor. Find your correct shaft seal on our shaft seal page, or in our pool pump parts pages.
***PLEASE NOTE: SOME POOL PUMP MOTORS CANNOT BE SHIPPED TO CALIFORNIA. To ensure compliance with Title 20 California Code of Regulations, visit the California Appliance Efficiency Database.***
56Y / 48Y Frame motor with a Square Flange and Threaded Shaft are made to fit popular pool pumps like Challenger, Ultra Flow, Whisperflo, Anthony pumps, and Sta-Rite Max-E-Glas, Dura-Glas, Dyna-Max pumps. Also fit Jandy, Waterway, FloPro and Water Ace pumps.