Winterizing Kit & 4 x 8 ft Air Pillow Bundle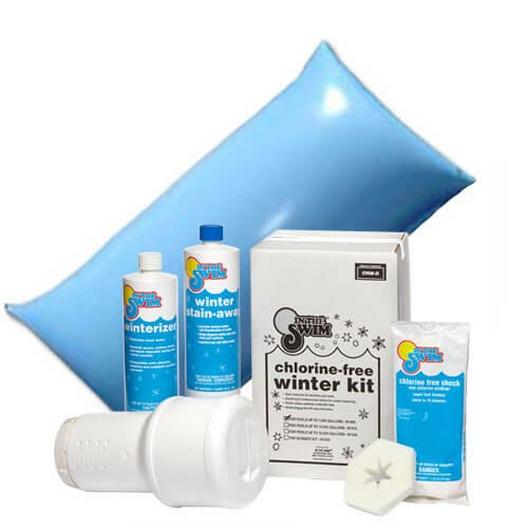 POOL WINTERIZING CHEMICAL KIT - PLUS AN AIR PILLOW! More Details
Subscription Available
Standard Shipping
- Ship To Home
Description
POOL WINTERIZING CHEMICAL KIT - PLUS AN AIR PILLOW!
---
Details
Unlike chlorine-based winterizing pool chemical kits that can stain, bleach or damage pool liners and other surface types, our winter chemical kits won't damage your pool during winter. Our unique winter pool floater removes carbon dioxide, one of algae's primary food sources. Stain Away prevents staining while your water sits over the winter months, and a powerful winterizing inhibitor controls algae growth from the time you close until the time you open. Our non-chlorine winter pool shock kills micro-contaminants, algae and pathogens so your water is sanitized before you cover it up. As a bonus, we include the Winter Sorb™, which soaks up any leftover suntan or body oils so your water has every possible protection available!
Best of all, we have combined all of this with our best-selling air pillow! These durable, heavy-duty Air Pillows are made of thick 16-gauge vinyl and sit below your winter cover on the water's surface. Pool pillows prevent the freezing water from forming a single sheet as it expands across your above-ground pool, preventing stress to the pool's walls.
Pre-measured for your specific pool size. Ordering a kit larger than your pool size will help protect from winter cover problems.
- Small Kit: for pools up to 7,500 gallons
- Deluxe Kit: for pools up to 15,000 gallons
- Super Kit: for pools up to 35,000 gallons
Winterizing Kit & Air Pillow
• All winter pool kits are pre-measured for your specific pool size. Order a larger kit than your pool size to protect from winter cover problems.
• Contains the same winter chemicals as our Small, Deluxe and Super Winter Kits, with the addition of an Air Pillow.
• Pool water temperature should be at 65 degrees F or below before winterizing, All kits include complete winterizing instructions.
• Shop all of our winter [pool closing kits](https://intheswim.com/search?cgid=closing%20kits%20and%20chemicals) including our Ultimate Winterizing Kit.
• Ensure peace of mind this fall with a top quality winter pool chemicals from In The Swim®.
How to Close Your Pool:
• Before Closing the Pool, remove all debris.
• Kill any algae, brush and vacuum from pool.
• Adjust pH to 7.2-7.4, and chlorine level to 2-3ppm.
• Add Winter Pool Stain Preventer; follow label instructions.
• Add Winter Pool Algaecide; follow label instructions.
• Add Winterizing Non-Chlorine Shock, according to label.
• Lower water level in pool to proper level for winterizing.
• Poke holes in Winter Pool Floater, place in the pool.
• Poke hole in Winter pill per instructions and place in the pool.
• Place the Winter Sorb in pool, to soak up oils.
• Cover pool quickly, before debris blows in the pool.
• Winterize your pool plumbing and equipment.