Clearview - Winter Pool Closing Kit for 7,500 Gallon Pool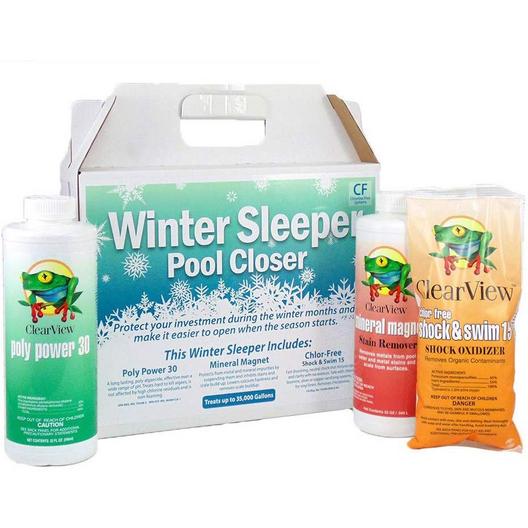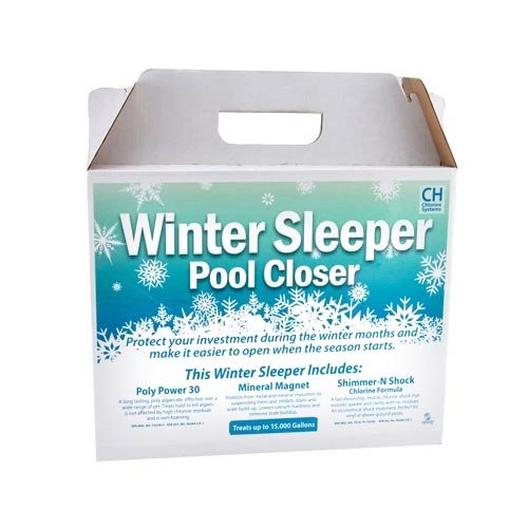 Protect your swimming pool this winter with the ultimate winterizing kit: Clearview Winter Pool Closing Kit for up to 7,500 Gallon Pool. More Details
Subscription Available
Standard Shipping
- Ship To Home
---
Description
Protect your swimming pool this winter with the ultimate winterizing kit: Clearview Winter Pool Closing Kit for up to 7,500 Gallon Pool.
Chlorine-Free Winter Sleeper Pool Closer
Winterizing chemical kit for pools up to 7,500 gallons
Easy to use and affordable
Will not stain or bleach vinyl pool liners
1 qt pool algaecide (Clearview Poly Power 30)
1 qt surface and equipment protector (Clearview Mineral Magnet)
1 lb bag of chlorine-free shock (Clearview Shock Swim Chlor Free 15)
---
Details
Protect your pool this winter and guarantee an easy spring opening when you use the Clearview Winter Pool Closing Kit. This winterizing chemical kit is perfect for smaller pools up to 7,500 gallons. The Winter Sleeper Pool Closer includes: an algaecide clarifier, surface protector and chlorine-free shock packs.
Clearview ChlorFREE 15 is a chlorine-free pool shock that turns chloramines into active chlorine. This shock is non-bleaching and compatible with all treatment systems: chlorine, bromine, copper, silver ionization and chlorine generators.
Mineral Magnet is a pool maintenance chemical that removes metals from the water and metal stains and scale from the surface. This product is also compatible with all water treatment systems.
Poly Power 30 is a highly concentrated pool algaecide used to treat mustard, black and blue-green algae in chlorine or bromine pools. This powerful algaecide is non-foaming and non-metallic.
---
Highlights

Increases the effectiveness of your chlorine or bromine sanitizer and safe for all pool surfaces

Mineral Magnet removes metal stains and scale from pool surfaces. It will also lower excessive calcium harness levels.

Prevent pool algae before it begins. This algaecide will treat hard-to-kill mustard, black and blue-green pool algae.
---
Specs
| | |
| --- | --- |
| Product Type: | Winterizing Accessory |
| Chemical Type: | Kit |
| Kit Type: | Closing Kit |
| Manufacturer: | Clearview |
| Pool Size: | Up to 7,500 Gallons |
| Pool Type: | Above Ground |
| Pool Type: | In Ground |
---