Pentair Clean & Clear Above Ground Pool Cartridge Filter Systems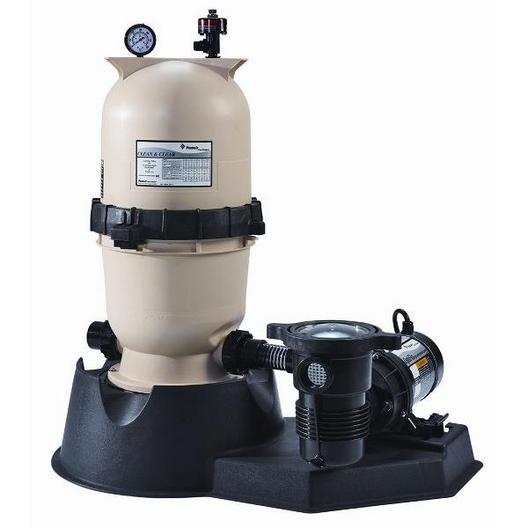 By paring the dependable OptiFlo pump with the highly efficient CleanandClear Cartridge Filter we've created a high-performance filter system that keeps water sparkling clean and crystal clear with the least amount of effort! More Details
Standard Shipping
- Ship To Home
Description
By paring the dependable OptiFlo pump with the highly efficient CleanandClear Cartridge Filter we've created a high-performance filter system that keeps water sparkling clean and crystal clear with the least amount of effort!
Available in 2 models:
75 sq ft Cartridge Filter with 1 HP Pump for 36,000 gallon turnover in 8 hours
100 sq ft Cartridge Filter with 1 1/2 HP Pump for 48,000 gallon turnover in 8 hours
---
Details
This ruggedly built 2-piece tank houses an easily accessible, pleated cartridge that filters down to 16 microns. Unlike backwashing, with the cartridge system you simply hose it off when your pressure gauge tells you it's dirty. This saves water and chemicals and is environmentally friendly. Systems come complete with filter tank, base, pressure gauge, pump to filter connector, and high-performance OptiFlo® pump. Systems also include two 1.5" X 6' Filter hoses, fittings and stainless steel hose clamps.
Features:
Base and filter tank are made of a thick, highly durable fiberglass-reinforced plastic for added strength and resistance to the effects of pool chemicals
High-FlowTM manual relief valve works with optimal internal air flow to create highly efficient and effective water filtering
Easy-to-use lock ring takes only half revolution for a leak-proof seal and simple filter maintenance
Pleated cartridge filters particles as small as 16 microns
Clean cartridge filter with garden hose, eliminating the need for backwashing which saves time, water and money
Features 2 in. plumbing for maximum flow and easy-access 1.5 in. drain
Filter systems comes complete with a filter tank, base, pressure gauge, pump to filter connector and high-performance OptiFlo® pump
System includes: two 6-foot-longh filter hoses with 1.5 in. diameter, all fittings and stainless steel hose clamps
Available in 2 models: 100 sq ft cartridge filter with 1HP pump for 48,000 gallon turnover in 8 hours; 150 sq ft cartridge filter with 1.5 HP pump for 72,000 gallon turnover in 8 hours
Warranty: 1 year
---