Natural Chemistry Pool Magic Spring & Fall + Phosfree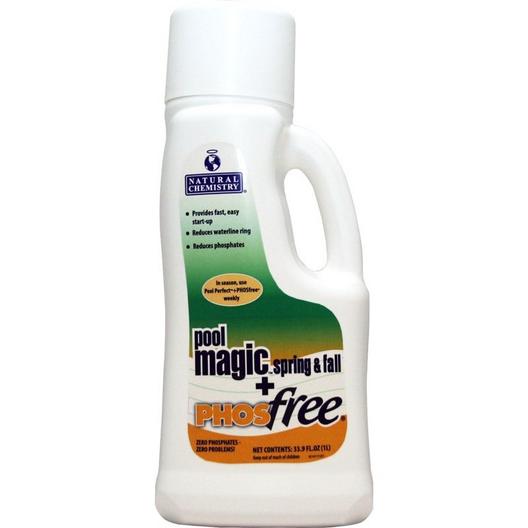 Be Amazed At The Results Of The Incredibly Popular Pool Magic Plus Phosfree Product More Details
Subscription Available
Standard Shipping
- Ship To Home
Description
Be Amazed At The Results Of The Incredibly Popular Pool Magic Plus Phosfree Product
---
Details
Don't waste time when you're opening and closing your pool for the season. Let Pool Magic Plus Phosfree take care of the hard stuff. This cleaning product boasts all-natural enzymes that work to forcefully break down organics and speed up your opening and closing routine.
This potent product from Natural Chemistry is designed for cold water usage and will cut through organics, prevent the formation of water lines and remove phosphates from your pool. Along with taking care of initial phosphates, Pool Magic is also designed to prevent the growth of algae. When you use Pool Magic at the end of the season and then during your spring opening you'll be stunned at how much it simplifies the process. You'll spend less time and invest less effort opening and closing your pool. Pool Magic works by binding to organic contaminants and breaking them down into their original components, so they don't leave behind a pesky mess. One liter of Pool Magic plus Phosfree will treat up to 25,000 gallons of water, and this product works particularly well with mesh covers.
Using Pool Magic at the end of the season will reduce and eliminate scum lines and staining that occurs from contaminants like leaves and debris. To close pools with Pool Magic, add the entire bottle to the skimmer and let it circulate for a few days. Then clean your pool as normal, cover, and winterize your filtration and plumbing systems.
To use when opening your pool, clear out debris, start up the filter, balance water and sanitize before adding an entire bottle to skimmer. Pool Magic Plus PhosFree helps to clear the water and filter of oils and organic debris, and removes phosphates to make algae control much easier.
---