Natural Chemistry METALfree Pool Chemical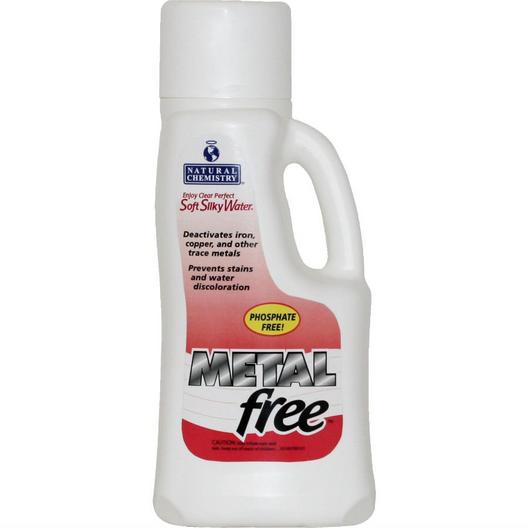 Natural Chemistry METALfree Pool Chemical Prevents Stains in Your Pool More Details
Subscription Available
Standard Shipping
- Ship To Home
Description
Natural Chemistry METALfree Pool Chemical Prevents Stains in Your Pool
---
Details
Metalfree quickly and effectively binds-up unwanted metals in your pool water, to prevent staining and discoloration from metals like copper and iron, and minerals like calcium. Metalfree locks up metals, and also prevents scale build-up due to too much calcium and other minerals in your pool. Metal-Free is an all-natural product that will not add phosphates while giving you a metal free pool. Other Stain & Scale control chemicals add orthophosphates to the water, as a means of control - not Metalfree!
Perfect for pools that typically have a high concentration of minerals and iron, such as pools filled with well-water, Natural Chemistry METALfree chelator improves water clarity and will not damage landscaping around the pool. Metalfree is also is unaffected by pH or temperatures.
- Metal out pool chemical contains one of the strongest, most effective sequestering agents for deactivating metals in pools
- Prevents stains and discoloration; improves water clarity
- Made from all-natural citric acid, does not raise phosphate levels in your pool
- Great for pools filled with well water, or with measurable metals and minerals
- Dosage is 1 liter per 20,000 gallons of water to chelate .5ppm of metals. If metal reading is higher than .5ppm, adjust dosage to match

Metal Free FAQ
Q: What does Metal Free do?
- This product is designed to deactivate and remove trace metals such as iron and copper from your pool fill water or water added to maintenance pool water levels. Metal Free will prevent stains and water discoloration.
Q: Can I use Metal Free if I have well water?
- Yes, this product is designed to be used with well water.
Q: Will Metal Free affect my other chemicals?
- No, this product will not raise phosphate levels and is not affected by pH or temperature.
Q: Will Metal Free harm my lawn?
- No, this product will not damage landscaping around your pool.