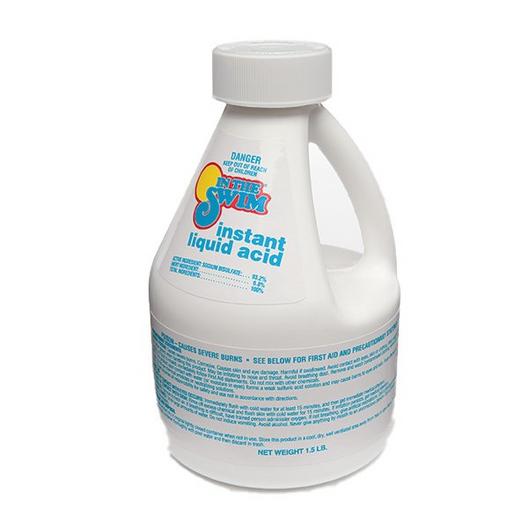 Instant Liquid Acid, you no longer have to worry about muriatic acid spilling in your car, on your clothes, or storing the hazardous liquid in your garage or shed! In The Swim's dry powdered acid, Instant Liquid Acid has no harsh chemical odors and is . You simply add Instant Liquid Acid into your pool like you always have! Safer and easier to use than muriatic acid as a pH decreaser in pools and spas. More Details
Standard Shipping
- Ship To Home
Description
Instant Liquid Acid, you no longer have to worry about muriatic acid spilling in your car, on your clothes, or storing the hazardous liquid in your garage or shed! In The Swim's dry powdered acid, Instant Liquid Acid has no harsh chemical odors and is . You simply add Instant Liquid Acid into your pool like you always have! Safer and easier to use than muriatic acid as a pH decreaser in pools and spas.
---
Details
Instant Liquid Acid allows you to mix up small amounts of acidic solutions for many cleaning projects around the pool. Add 1 cup of the dry mix to a gallon of water for average scale and stain removal, and adjust strength as needed for best results. For scale, remove heavy deposits first with putty knife or dull flathead tool.
Cleans salt cells to remove scale and plaque
Removes stains on pool plaster and pebble finishes
Use to clean tile grout, stone grout and coping stones
Removes pool and spa tile scale and efflorescence
...and also lowers pool water pH and alkalinity levels!
Instant Liquid Acid is conveniently shipped in cases of 4 x 1.5 lb. bottles. Mix only with clear water. In The Swim Instant Liquid Acid is a dry granular acid used to reduce pool pH levels, or to remove stains and scale on pool tiles, bricks and stones, or pool salt cells.