In The Swim Pool Clarifier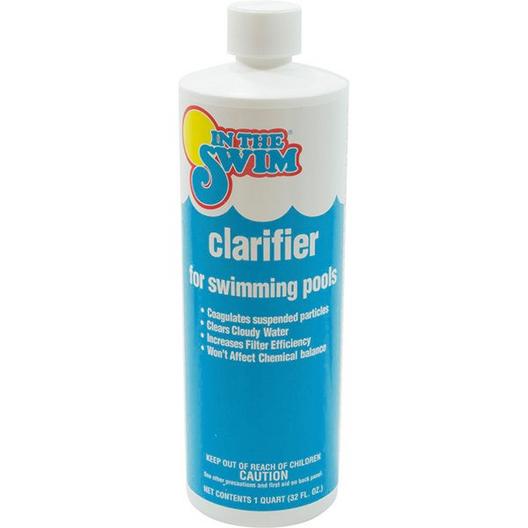 In The Swim Pool Clarifier More Details
Subscription Available
Standard Shipping
- Ship To Home.
Description
In The Swim Pool Clarifier
---
Details
Transform your pool from cloudy to crystal clear in a hurry with In the Swim's pool clarifier. The water clarifier quickly works to form minute particles including suntan oils and lotions into larger, easier-to-filter particles that your pool filter can better handle. Not only does pool clarifier help with your pool's clarity, but makes your pool safer to swim in.
In the Swim pool clarifier is not recommended for use in pools with DE filters
Coagulates dirt, oil and other debris that makes your water cloudy; makes it easier for pool filter to work
Won't affect chlorine or pH levels in your pool
Initial dosage is 16 oz. per 10,000 gallons; maintenance dosage is 4 oz. per 10,000 gallons
What is the purpose of clarifier?
- Clarifier is a specially formulated water clarifier. It helps remove small particles for the water by joining them together, allowing the filter to remove them. This product restores the sparkle to dull looking water.
Why should I not use Clarifier with my DE Filter?
- It will coagulate the DE particles and cause a gumming affect on the filter grid or fingers.
What will the In the Swim Clarifier do for my pool?
- It will coagulate suspended particles.
- Clears cloudy water.
- Increases filter efficiency.
How do I store the Clarifier?
- Keep container tightly closed. Do not contaminate water, food, or feed by storage or disposal.
How would I use Clarifier for my pool that has existing cloudy water?
- After backwashing or cleaning the filter, add ½ quart of Clarifier per 10,000 gallons directly to the skimmer.
- Add additional doses as necessary to clear water, allowing 24 hours of continuous filtration between additions.
How much Clarifier would I use to prevent cloudy water?
- After backwashing or cleaning the filter, add 4 fl. Oz. Of Clarifier per 10,000 gallons directly to the skimmer.
- Repeat dose once a week