Leslie's - Chlor Brite Granular Chlorine Pool Shock 1lb Bags, 12-Pack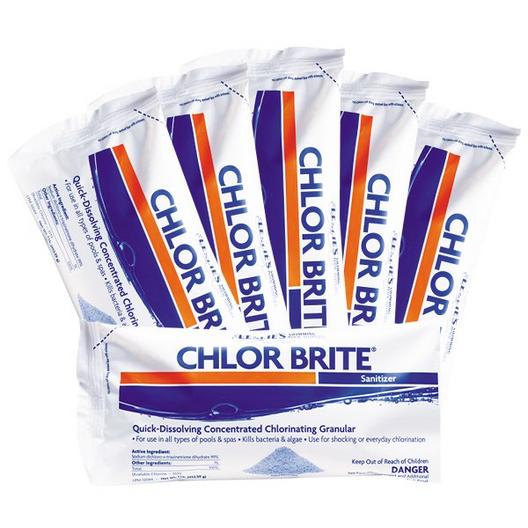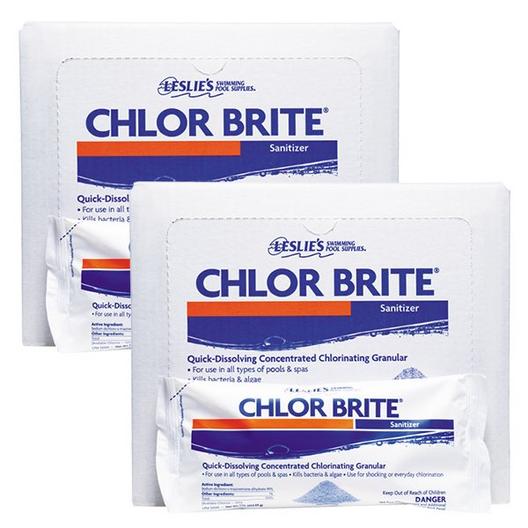 The BEST granular chlorine on the market! Can be used in any pool or spa but has a particular interest to owners of vinyl-liner pools, fiberglass pools, painted pools, all spas and hot tubs. Becasue it is fast dissolving and has a near-neutral pH, it will not cause damage to the vessel. Chlor Brite is pH-neutral with 99% active ingredient. A slower dissolving or more acidic compound might bleach the vinyl, fiberglass or acrylic if it were to be in contact with the vessel for an extended period of time. Dosage: 3 oz per 10,000 gallons More Details
Subscription Available
Standard Shipping
- Ship To Home
---
Description
The BEST granular chlorine on the market! Can be used in any pool or spa but has a particular interest to owners of vinyl-liner pools, fiberglass pools, painted pools, all spas and hot tubs. Becasue it is fast dissolving and has a near-neutral pH, it will not cause damage to the vessel. Chlor Brite is pH-neutral with 99% active ingredient. A slower dissolving or more acidic compound might bleach the vinyl, fiberglass or acrylic if it were to be in contact with the vessel for an extended period of time. Dosage: 3 oz per 10,000 gallons
Granular Chlorine Pool Sanitizer
Available in multipack bags
99% active ingredients
Dissolve rapidly
UV ray inhibitor
Can be used for regular chlorination or super-chlorination
---
Details
Chlor Brite Granular Chlorine is a high-quality and affordable way to keep your pool sanitized. This fast-dissolving sanitizer can be used for regular chlorination and super-chlorination. With 99% active ingredients this chlorine works with power to kill bacteria in your water. These multipacks come individually wrapped and dissolve rapidly so that you can avoid the mess and residue that traditional chlorine can leave behind. This granular chlorine has an added UV inhibitor which slows down the process of the sun burning off chlorine in your pool and keeps it sanitized longer.
Use the effective and powerful Chlor Brite Granular Chlorine Multipacks to sanitize your swimming pool affordably.
Dosage: 2-3 oz per 10,000 gallons.
---
Specs
| | |
| --- | --- |
| Manufacturer: | Leslie's |
| Product Type: | Pool Chemical |
| Chemical Type: | Shock |
| Active Ingredient: | Dichlor-S-Trianzinetrione |
| Dosage: | 2-3 oz per 10,000 gallons |
---