Leslie's - Chlor Brite 40 lbs. Granular Chlorine Bucket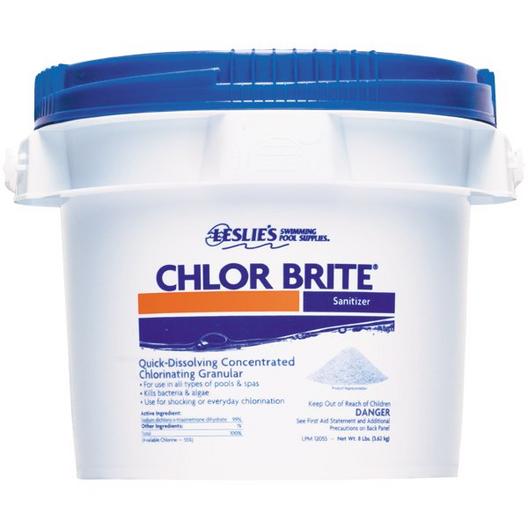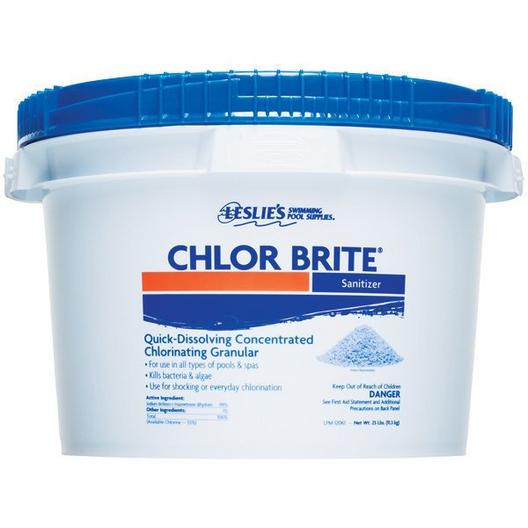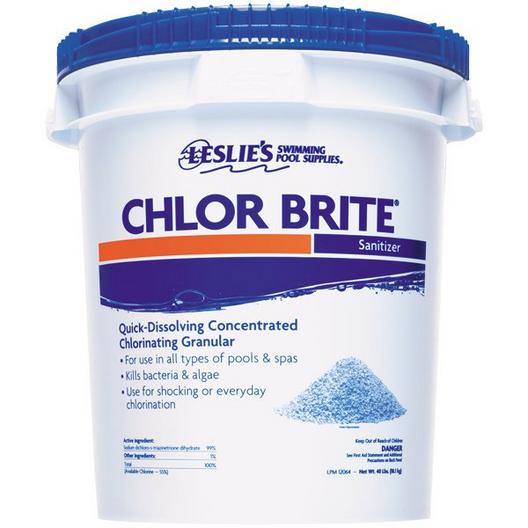 Leslie's Chlor Brite Granular Chlorine is the highest quality granular chlorine available, and we offer it at the lowest prices you can find More Details
Subscription Available
Standard Shipping
- Ship To Home
---
Description
Leslie's Chlor Brite Granular Chlorine is the highest quality granular chlorine available, and we offer it at the lowest prices you can find
Granular chlorine bucket
Dissolves quickly
Multi-use for chlorination or shock
Doesn't bleach or leave residue on pools
99% sodium dichloro-s- triazinetrione blend
Ultraviolet inhibitor
Available Percentage of Chlorine is 55%.
---
Details
Leslie's Chlor Brite is a fast-dissolving, powerful sanitizer that can be used for both regular, daily chlorination as well as superchlorination. What makes Leslie's Chlor Brite the best granular chlorine on the market?
99% Active Ingredient
Our granular chlorine the strongest on the market. Don't be misled by a lower price on a lower percent of active ingredient; you are paying for a strong bacterial killer, so make sure you get it!
Dissolves Rapidly
Quick-dissolving chlorine also means no messy residue in your pool!
Ultra-Violet Ray Inhibitor
UV rays from the sun can burn off chlorine in your pool. Our granular chlorine has an added UV inhibitor, which slows down this process significantly, keeping your pool sanitized for longer.
Great for Regular Chlorination and Superchlorination
Because of its quick-dissolving and powerful formula, Leslie's Chlor Brite is perfect for everyday use, as well as weekly shocking, or superchlorinating your pool.
Both effective and powerful, Leslie's Chlor Brite features 99% sodium dichloro-s-triazinetrione, also known as dichlor - the highest amount you can buy! Chlor Brite is designed for easy use. Leslie's Chlor Brite dissolves rapidly, which means it won't sit on the bottom and bleach your pool, and it won't leave any residue on pool walls.
Leslie's Chlor Brite provides constant and effective chlorination, ease of handling, and an indefinite shelf life. Dichlor granular chlorine is perfect for above-ground, vinyl-lined, fiberglass, and painted pools. Because it dissolves rapidly, it will not harm the walls of the pool. The pH level of Leslie's Chlor Brite is between 6.5 and 7.0, which is almost neutral. This makes it very easy to regulate your pool's chemical levels. Dichlor also features a built-in stabilizer, so the sun's harmful UV rays will not disrupt the chlorination process.
Routine Usage Directions
Turn on the circulation pump and ensure that it is operating properly.
Broadcast a half-ounce of Leslie's Swimming Pool Supplies Chlor Brite (per 500 gallons) over the surface of the water.
Test the Free Available Chlorine (FAC) level and add additional Leslie's Swimming Pool Supplies Chlor Brite, if necessary, to attain a 3-5 FAC level.
After each use, superchlorinate with 1.5 ounces per 500 gallons of Leslie's Swimming Pool Supplies Chlor Brite to control odors and algae.
Superchlorination Instructions
In case of algae, colored water, unpleasant odors, burning eyes, excess bather load, heavy rains and winds, or high temperatures, superchlorination may be required.
Adjust the pH to 7.2-7.6 with the appropriate product.
Add 21 ounces of Chlor Brite per 10,000 gallons of pool water to remove excessive organic materials and keep the water sparkling clear. This dosage provides approximately 6.8 ppm of Free Available Chlorine.
Do not reenter the swimming pool until the Free Available Chlorine (FAC) is between 1-4 ppm. If algae are visible, brush pool surfaces and sweep up debris. Repeat treatment as necessary to clear algae and achieve proper FAC levels.
Routine Dosage: 3oz per 10,000 gallons.
---
Specs
| | |
| --- | --- |
| Container Size: | Bucket: 40 lb |
| Active Ingredient: | Dichlor-S-Trianzinetrione |
| Chemical Type: | Chlorine and Shock |
| Dosage: | 21 oz per 10,000 Gallons |
| Manufacturer: | Leslie's |
| Product Type: | Pool Chemical |
---