3 Inch Chlorine Tablets - 50 lb Bucket
Keep your swimming pool and spa water clean and fresh with Stabilized 3" Chlorine Tablets for floating dispensers and automatic chemical feeders. More Details
Membership Available
Standard Shipping
- Ship To Home.
Description
Keep your swimming pool and spa water clean and fresh with Stabilized 3" Chlorine Tablets for floating dispensers and automatic chemical feeders.
Includes one 50 lb bucket
For use in pools and spas
Approximately 100 tablets
Each tablet is individually wrapped and weighs 8 oz
99% Trichloro-S-Trianzinetrione
Stabilized to protect potency
EPA approved formula
Note: Items received have the same chemical make-up, but may not look exactly like the item pictured above.
---
Details
The 3" Pool Chlorine Tablets are 99% Tri-Chlor and 90% Available Chlorine. The stabilized chlorine tablets are compressed very dense to give them a longer life and provide an even distribution of chlorine. These chlorine tablets should be used in either a chemical feeder or floating dispenser. Each tab is individually wrapped for safety.
Common Questions:
How Do I Use 3" Chlorine Tablets?
The ideal way to utilize tablets is through an automatic chlorine feeder or floating dispenser.
Where NOT to put a Tablet?
Do NOT place chlorine tablets into the wall skimmer, pump basket, water features, or pool interior surface. If you place a tablet in a small body of water, you will create a high chlorinated acidic liquid that will damage o-rings, equipment parts, and the interior surface.
Where do I store my chlorine bucket?
Ideally you need to store your chlorine bucket in a cool, dry, and ventilated location.
Keep tablets out of direct sunlight as this will degrade the tablets.
Keep out of reach from small children and pets.
How many 3" tabs do I use per week?
The answer to this can vary greatly from pool to pool due to different variables like temperature, bather load, the size of your pool, and many other factors. It is suggested to start with one tablet per 10,000 gallons. If you are in an area with high levels of UVA and UVB rays, you may need two per 10,000 gallons.
Advantages of our Chlorine Tablets
All tablets are individually wrapped to prevent off-gassing and to provide safer handling.
Our tablets are stabilized to protect the chlorine from the harmful rays of the sun.
---
Highlights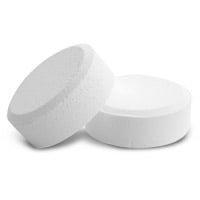 Stabilized chlorine has been treated with cyanuric acid, which acts like sunscreen to protect against high heat and UV rays that can burn the chemical and render it ineffective. Stabilized chlorine is more effective over a longer period of time, and is perfect for use in especially hot climates or in pools that receive full sun for the majority of the day
These slow-dissolving chlorine tablets have optimum hardness to ensure you get the correct dosage for your pool. They dissolve completely and can be used in floaters or automatic chemical feeders

Tri-Chlor contains more chlorine by weight than dihydrate Di-Chlor, but either will work to neutralize viruses and bacteria, leaving you with clear water that's safe for you and your family
---
Specs
| | |
| --- | --- |
| Specialty: | Stabilizers |
| Active Ingredient: | Trichloro-S-Triazinetrione |
| Container Size: | Bucket:50 lb |
| Chemical Size: | 3 inch Tablet |
| Product Type: | Pool Chemical |
| Chemical Type: | Chlorine |
| Product Dimensions: | 12.5" Width x 18.8" Length x 12.5" Height |
| Product Weight: | 53 lbs. |
---
Warranty
See Owner's Manual for details